Kangana Ranaut's ugly spat with a journalist, Justin Rao, at Judgementall Hai Kya song launch has taken a toll on producer Ekta Kapoor
Kangana Ranaut's Judgementall Hai Kya producer Ekta Kapoor has recently tweeted that she would like her film to go back to its original title, Mental Hai Kya.
Last weekend, Kangana's ugly spat with an entertainment journalist Justin Rao at Judgementall Hai Kya song launch event has taken a toll on Ekta Kapoor. And she was seen venting out her frustration on Twitter suggesting that they can go back to the previous film title, that is, Mental Hai Kya. 
Not just that, Ekta even said she's gone mental after this whole Kangana, media fiasco.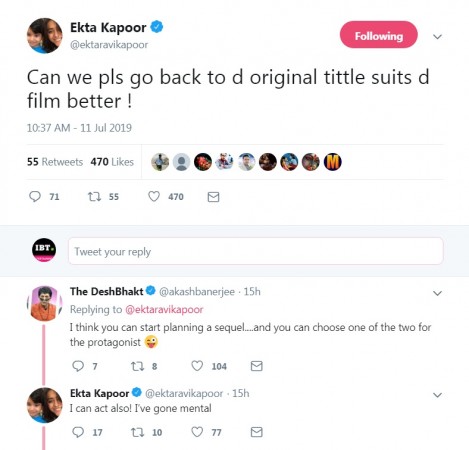 "Can we pls go back to d original tittle suits d film better!" Ekta Kapoor tweeted. And when a Twitter user replied to her saying that she could start thinking of a sequel and take one of the two actors (Kangana Ranaut and Rajkummar Rao) for the protagonist, Ekta replied, "I can act also! I've gone mental."
Post this event, Ekta had apologised to the media on Kangana's behalf. However, the Entertainment Journalists' Guild of India said that they have accepted Ekta's apology and will not let the controversy hinder her movie Judgementall Hai Kya. But the ban imposed on Kangana will continue across all media platforms until the latter issues a public apology. 
Ekta was also seen tweeting about the incident and showed her helplessness, "In the whole fiasco, people forgot that we have launched a SONG!#WakhraSwag ! It's fantastic! Pls watch !!!" 
on one hand, Ekta is trying to calm down the situation but Kangana has taken the highway by saying that she won't apologise to journalists who, she claims, are "ganging up" against her and who are "on sale for Rs 60".
In a video, the Queen actress said, "These people (Journalist) are threatening to ban me, destroy my career. Treacherous people, one doesn't need lakhs of rupees to buy you out, you people go crazy over Rs 50-60. You guys will destroy me? If things were according to pseudo journalists like you and the movie mafia, I wouldn't be the country's top actress and the highest paid actress. I ask you to please ban me, I do not want a situation where there is no food at your home because of me."
A few days ago, Kangana sent a legal notice to the Entertainment Journalists Guild through her lawyer Rizwan Siddique for threatening her without any provocation. 
Last Updated Jul 13, 2019, 1:57 PM IST