Mimi's act has not only given fresh fodder to the opposition to question her being 'elitist' but also leaving her party red-faced that prides itself as a party of 'ma, mati, manush'
Kolkata: Actress Mimi Chakraborty, who is a part of the Bengali entertainment world and now parachuted to the world of politics became a laughing stock when a purported picture of her went viral. Mimi was seen shaking hands with her electorate from inside the car and of course, wearing gloves. 
This act has not only given fresh fodder to the opposition to question her being 'elitist' but also leaving her party red-faced that prides itself as a party of 'ma, mati, manush' (mother, earth, people).
In the photo the TMC candidate from Jadavpur, a constituency once held by Bengal chief minister Mamata Banerjee, Mimi was seen wearing yellowish gloves in both her hands. She was caught on camera shaking hands with a person, presumably her constituent or follower. The photos show the actress turned politician in a white cap which read, "I'm busy" and a black aviator.
Politics is all about perception. And the perception that has gone out or at least made out to be by her political opponents is the TMC candidate is more concerned about her personal hygiene than connecting with people. Very soon people started calling her out on social media.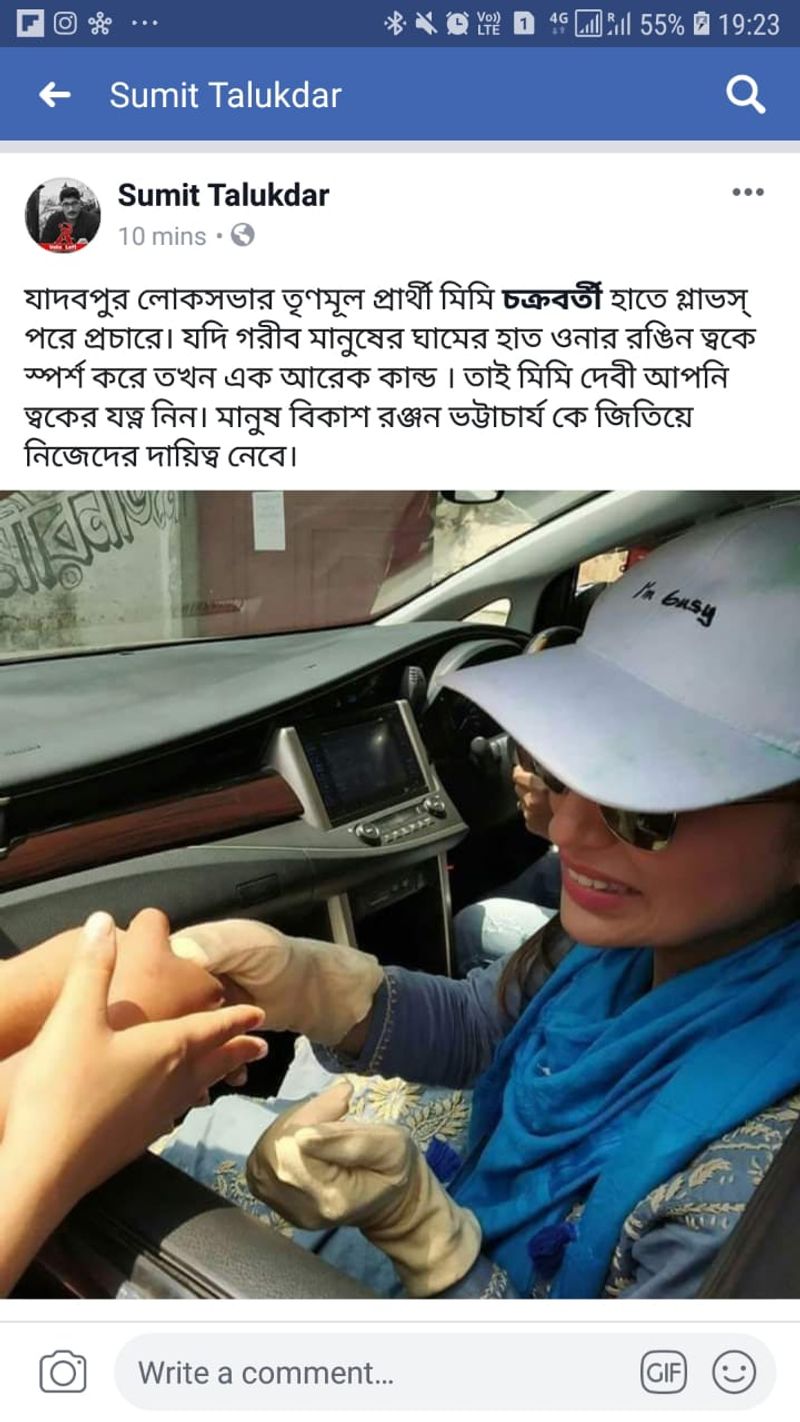 A CPM supporter Sumit Talukdar took to Facebook to post her photo with a statement that read, "TMC candidate from Jadavpur Mimi Chakraborty is seen campaigning while wearing a glove. She is concerned about the sweaty hand of a poor person that may touch her skin. So, you should take care of your skin. People will elect Bikash Ranjan Bhattacharya " (the CPIM candidate).
Sad & Disgusting !
TMC candidate from Jadavpur Lok Sabha constituency Ms Mimi Chakraborty greeting  Dalit & Poor voters  with gloves in the hands 👎
Ms Queen Elizabeth, are they untouchable🤔??
Indian democracy don't deserve such People in Parliament. pic.twitter.com/8VRd1uh526

— Major Surendra Poonia (@MajorPoonia) April 11, 2019
Major Surendra Poonia, who recently joined BJP, too took a sharp dig at her calling the act 'sad and disgusting'. Poonia likened Mimi Chakraborty with 'Queen Elizabeth'. He said, "Indian democracy don't deserve such people in parliament".
TMC Jadavpur candidate Mimi Chakraborty greeting "untouchables" Voters with Gloves in the hands pic.twitter.com/NzHRi2oAcx

— 💂 Rishi Bagree 🇮🇳 (@rishibagree) April 11, 2019
Another prominent social media influencer from Kolkata, Rishi Bagree questioned whether Chakraborty's electorates are 'untouchable'. Bagree went on to claim, "over 50% of the population in her seat" live under abject poverty and this act only highlights her elitist outlook.
This is how TMC Candidate from Jadavpur, Tollywood actress Mimi Chakraborty is campaigning. Will she work for people after winning? pic.twitter.com/MY2rMAHHr1

— Amit Dahal (@AmitDahal) April 11, 2019
Amit Dahal whose twitteclaims clims he is a marketing and advertising professional too questioned the diva act of the neo politician asking, "Will she work for people after winning?"
The brazen defence!
If allegations of elitism is being hurled at Mimi, her publicist Rudradeep didn't try much to counter that. In fact, while speaking to MyNation he put up a brazen defense while saying, "She is a celebrity candidate. Won't such things happen?" When asked specifically on why Mimi Chakrabarty used the gloves he said, "You know how people pull (hands) when they see a celebrity". But added, "She used it only for five minutes". 
But the brazenness didn't stop at that. He continued, "They are not showing the good things she has done but focussing on the negatives. There's no point. Tomorrow they may ask why is she campaigning wearing a cap or day after they may ask why campaign wearing a sunglass. If villagers don't wear sunglass, does that mean even you an I won't wear sunglass?"
Calls were made to the actor turned politician as well. But it didn't yield any response. A text message is sent to her asking for a statement. As and when Mimi chooses to respond, this copy will be updated.
Dent in TMC's pro-poor image
This controversy has broken in the middle of the election season. In a video message for the people of Jadavpur, CM Mamata Banerjee endorsed Mimi as a 'matir meye' (girl connected to her roots). Banerjee was seen heaping praise on the actress, saying, " She is a daughter from a very good family. She is a girl who is connected to the roots. She always thinks of Ma, mati, Manush. Vote for Mimi Chakraborty".

But the gloves act turned the tables for her. If Mamata Banerjee called her 'connected t roots', she is now being called 'elitist' on social media. This image may dent Mimi's electoral chances personally but also TMC's as a whole.
Read Exclusive COVID-19 Coronavirus News updates, at MyNation.
Last Updated Apr 12, 2019, 10:36 AM IST