As numbers till Phase 5 show big jump even from the historic 2014 turnout, new voters and strong pro-incumbency are likely to be decisive
Just before General Elections 2019 kicked off, Prime Minister Narendra Modi started a Twitter campaign urging Indians to come out and vote. It was hashtagged #VoteKar. He tagged eminent personalities in media, movies and other fields so that they use their influence in encouraging voters. The PM's efforts seem to be paying off. This election is set to record the highest-ever voter turnout in the history of independent India.
Elections 2014 vs 2019 — first 5 phases
The 2014 election was historic. The voter turnout was 66.4%. Out of 83,41,01,479 electors, 55,38,01,801 cast their vote. 
Since 2014, 5.94 crore more Indians have become eligible to vote. Before we break down the 2019 numbers till Phase 5, let us look at the voting percentage historically.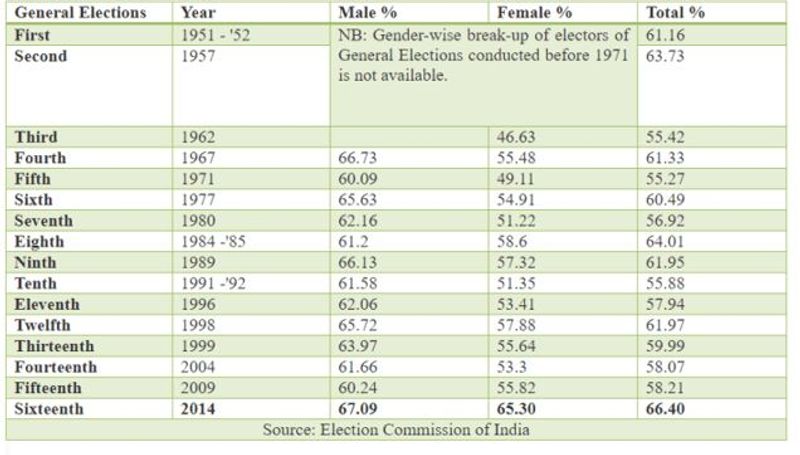 As is clear from the above table, only the 1984 elections come close to the 2014 numbers. In all respects, the turnout indeed was historic. Let us now see the 2019 numbers till phase 5.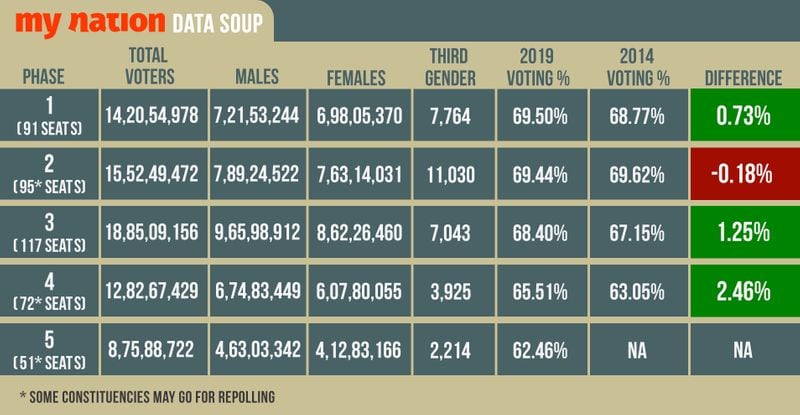 As can be seen from the table, the number of voters in each phase has shown a significant jump from 2014. It gets even better when we note that the number of voters has only shot up in most constituencies. The first four phases in 2014 showed 67.60% voter-turnout, and in 2019 the number stood at 68.31%. 
While pundits have traditionally seen a jump in voter turnout as a sign of anti-incumbency, the PM has inverted this logic and said 2019 is a pro-incumbency election in which people are coming out to elect and not evict.
What the statistics imply
• This election is likely to be decided by new voters. People born between 1997 and 2001 are now eligible to vote. There are credible estimates that on an average 1.49 lakh first-time voters registered in each Lok Sabha seat.
• Many news organisations reporting from the ground have confirmed that the young voter is choosing a "strong government", which in the current context, means the Narendra Modi regime.
• Losses for BJP in Madhya Pradesh and Chhattisgarh Assembly elections have neutralised anti-incumbency against the BJP, and people have reasons to choose Modi again. The Congress governments' delay in fulfilling promises has given BJP an edge in these states once again.
• Incremental increase in voting percentage had only added to the BJP's 2014 vote share which saw a surge from 23% to 31%. The voting percentage had gone up from 58.21% to 66.40 %. Assuming that the same voter is coming out in greater number this time as well, it is advantage BJP again.
Given these reasons and many other factors like Balakot airstrikes, numerous successful schemes for the poor, tax benefits for the middle class and tight control on inflation, it wouldn't be an exaggeration to predict that the BJP is set to better its 2014 tally. BJP president Amit Shah too is predicting the same, and the numbers give him a good reason to cheer.