Congress social media chief Ramya aka Divya Spandana did not vote for the third time in a row. She was, of course, trolled for another no-show at the polling booth.
Bengaluru: Congress social media chief Divya Spandana aka Ramya was trolled for her attitude on voting, a right she has not exercised thrice in a row.
Ramya has been actively requesting people to cast their vote. However, the Congress worker who has her voting rights in Mandya constituency in Karnataka, failed to show up at the polling booth on April 18. In fact, she was not even present in Karnataka on April 18, when Mandya went for polls.
Ramya was trolled heavily on social media, especially Twitter, with people asking her if she at least voted this time around.
This is what Ramya tweeted on April 17.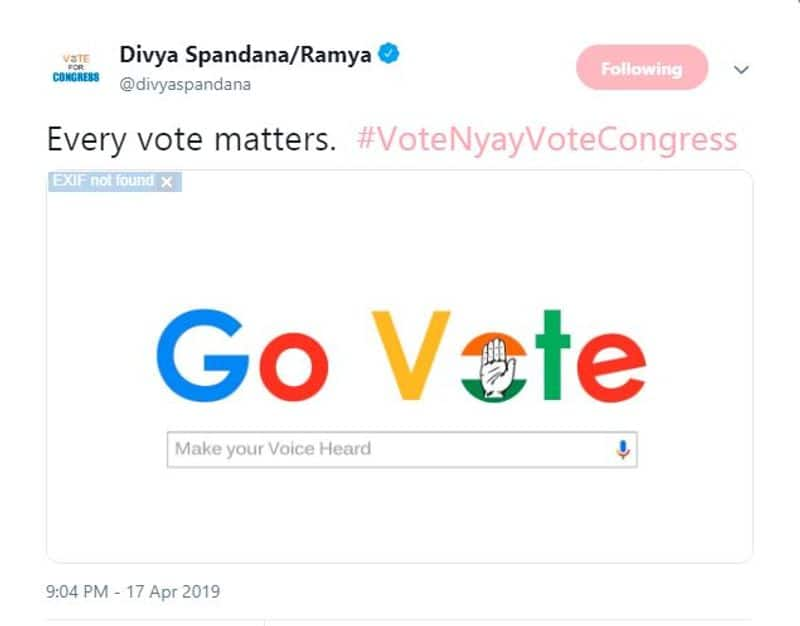 But a day later, Twitterati had a lot of questions for her after she was not spotted anywhere in Mandya. She was apparently in Kerala, campaigning for Rahul Gandhi, who is contesting from Wayanad, apart from his Amethi seat.
Here is what the Twitterati had to say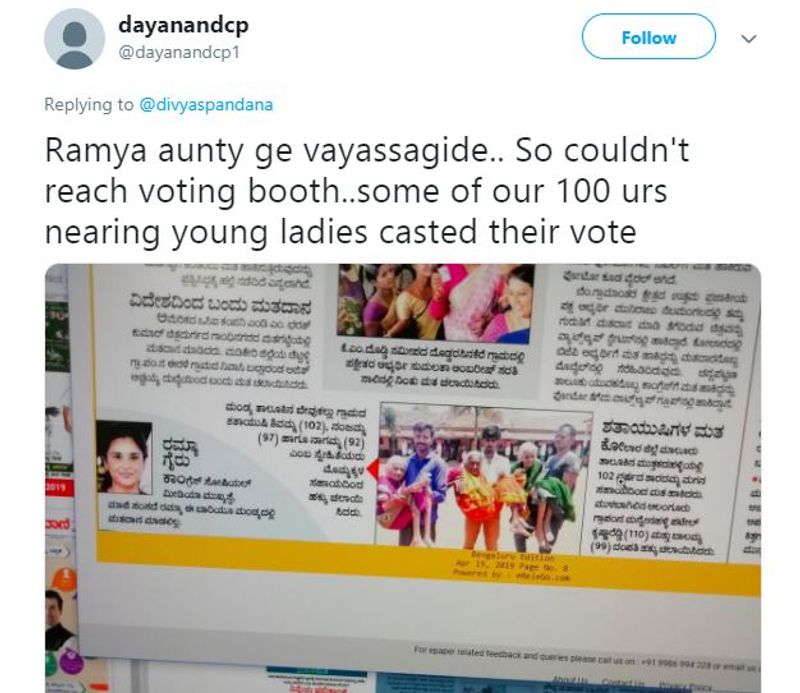 Meaning "Did you vote actress Ramya?"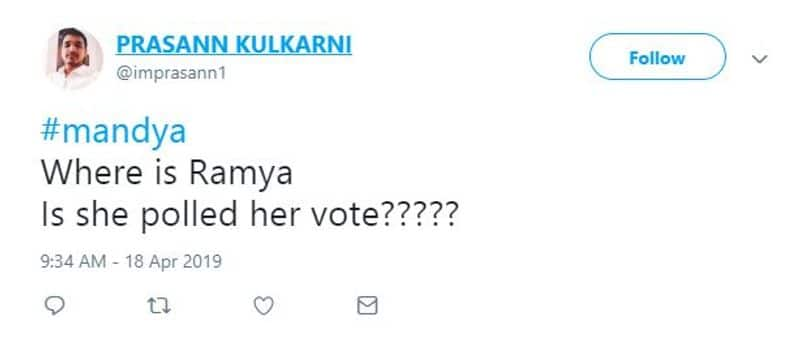 Ramya is not only a voter from the constituency but has been an MP from the constituency. But after her defeat in 2013, Ramya was hardly seen in Mandya. She even vacated her rented house in Mandya overnight and moved to Delhi.
She has been trolled for her earlier misses too. Karnataka went for Assembly elections on May 12, 2018. Ramya did not make time to cast her vote then either.
Ramya also missed voting during the by-election (Lok Sabha seat) held in November 2018.
Being an actress, Ramya was also taken to task for not attending the funeral of veteran actor Ambareesh (whom she called uncle), who died of heart attack on November 24, 2018.
Ramya and Ambareesh were not in good terms since 2013, when Ramya was given the ticket to contest in the by-election from Mandya, against the wishes of Ambareesh, who was a former MP from Congress.
Many have posed the question – As a social media manager of a national party, who requests others to vote, how can Ramya justify her actions?
 
Read Exclusive COVID-19 Coronavirus News updates, at MyNation.
Last Updated Apr 19, 2019, 4:29 PM IST