Like A Girl by Aparna Jain raises questions about the author's ideology, agenda and grasp of facts. Questions about the narrative being built and rigour of the editorial process that neither asked questions nor insisted on answers. This book was written in a parallel universe in which facts don't matter, questionable people are deemed role models, and toxic agendas are noble pursuit.
Like A Girl by Aparna Jain
Publisher: Context 
Audible.in, Amazon.in
It is not as if role models for girls are in short supply in India. The problem is more of awareness of such role models. Therefore, when a book like Like a Girl, written by Aparna Jain, came along for a review, I was inquisitive, to say the least.
The book is broken up into fifty-one short chapters and read by several persons - Suchitra Pillai, Varsha Varghese, Tisca Chopra, Aparna Jain, Ritu Dalmia, Malishka Mendonsa, Kirti Jayakumar, and Rasika Duggal (I listened to the audiobook, via Audible). This goes nicely with the different chapters that cover different characters, and therefore there is no perceived discontinuity. Each narrator brings her own personality to the rendition. Less can be said about the content, however, which is fairly anodyne and rarely rises above the literary level of a hastily-written Wikipedia article.
The author confesses that she wanted to include more inspiring women than the editor would permit her to. That is understandable. However, what is said is often as important as what is not said. I call them choices of commission and omission. Let's look at some of them.
Questionable Juxtapositions
I doubt if anyone would question the inclusion of such super-achievers like Homai Vyaravala, Lakshmi Sahgal, Kishori Amonkar, or M.S. Subbulakshmi. Some may question the choice to award a full chapter to tennis player Sania Mirza, but club Saina Nehwal and PV Sindhu, both badminton players, into a single chapter. One could perhaps look at Sania's six Grand Slam titles (none in the singles category though) and see that as justification enough for devoting an entire chapter to her.
But surely Lata Mangeshkar and Asha Bhosle deserved separate chapters, so towering are their achievements in the Indian movie industry. Lata Mangeshkar is a Bharat Ratna, and Asha Bhosle a Padma Vibhushan. Each is the story of struggle and achievement in their own ways, and clubbing them into one chapter seems unfair to both. Perhaps these are the prerogatives of an author. Another role model youngsters will want to look up to is Kiran Mazumdar Shaw or astronaut Kalpana Chawla.
Curious Inclusions
More curious, however, are some of the other inclusions. Take Gauri Lankesh, for instance. A journalist who was shot dead by unknown assailants in Bangalore in 2017, she was a self-professed Urban Naxal. Urban Naxals are urban dwellers who support Naxal ideology. In case you're wondering, an accurate picture of Naxals is thus: they killed a "four-month-old baby in a Jan Adalat in front of her mother as her father was a suspected police informer." It was estimated that Naxals have murdered more than nine-thousand civilians and three thousand policemen in the last twenty years (link). Urban Naxals themselves have proudly called for the dismemberment of India, chanting, "Bharat tere tukde honge, Insha-Allah, Insha-Allah" and expressed sorrow at the hanging of convicted terrorist Mohammad Afzal Guru, who was found guilty of conspiracy in the terrorist attack on the Indian parliament in 2001.
Gauri Lankesh herself was convicted of defamation and sentenced to six months in prison in 2016. Should such a person be a role model for youngsters, or for anyone, anywhere for that matter? Should a chapter devoted to Gauri Lankesh not inform budding women about this aspect of her life?
Or take the case of activist Teesta Setalvad. This is what the book tells us about the communal riots of 2002 - "In 2002 there was a wave of communal violence in the form of anti-Muslim riots in Gujarat." Now, let's look at what happened - on the morning of Feb 27, 2002, a train carrying mostly Hindu pilgrims was stopped outside the station of Godhra (a suburb of Ahmedabad) where a mob of about two-thousand Muslims had collected. They locked the train compartments, poured flammable liquid and set fire, burning alive 59 Hindus, including men, women, and children. This was the trigger for communal violence that rocked the state in which 790 Muslims and 254 Hindus were killed.
An investigation revealed that Teesta had taken money meant for the victims of this communal violence in Gujarat and spent it on such things as "hair styling expenses ... during her trips to Rome and Pakistan" as well as on "purely personal items such as earbuds, wet wipes, nail clippers, ladies personal items, several books including romantic novels like Mills and Boon and thrillers like Total Control, Blackberry phone..." (link). In 2014, Teesta Setalvad tweeted an image (link) where a portrait of Hindu Goddess Kali had been morphed on a terrorist's body and "another ISIS terrorist is depicted with the Sudarshan Chakra(the weapon used by the Hindu god Vishnu)."
If such a person is seen as a role model by the author raises disturbing questions. That the book does not include any of these details about Teesta also says something.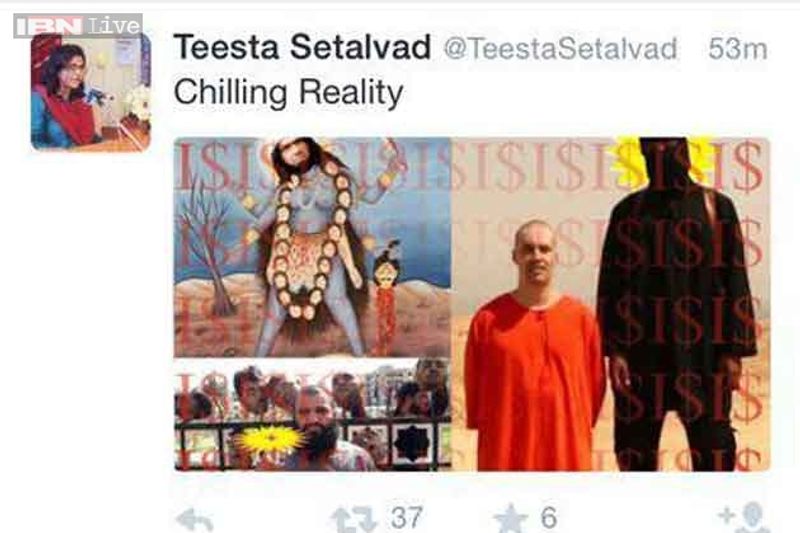 Curious-er Exclusions
What is more baffling is the exclusion of some notable warrior queens such as Ahalya Bai Holkar, perhaps the greatest ruler - man or woman, in the last three hundred years. Her achievements as the ruler of the Maratha Malwa kingdom for three decades range from developing Indore into a beautiful city to rebuilding scores of temples destroyed during Islamic invasions, building roads, gardens, encouraging the arts, and bringing peace and prosperity to the region.
Or Kittur Chennamma, the Rani of Kittur. Or the incredible Rani Abbakka, the queen of Ullal, who repulsed several attacks by the Portuguese over a period of four decades. Reading about Rani Abbakka would fill the heart of any young girl with both pride and courage. Yet, none of these queens is included in the book.
Though it is important to note that the author has included Chand Bibi and Razia Sultan. Razia Sultan ruled Delhi for a little over four years, and who still found time as queen to destroy Hindu temples in the holy city of Varanasi and build a mosque on the ruins of the Viswanath temple there. This information is not included in the chapter on Razia Sultan. Once again, one wonders why.
Also read: Is the 'chalta hai' and 'jugaad' attitude bringing India down?
All these omissions and commissions raise questions. Questions about the author's ideology and agenda. Questions about the author's grasp of facts. Questions about the narrative that is sought to be built. Questions about the rigour of the editorial process that neither asked questions nor insisted on answers. Questions that perhaps answer themselves. Or not. Perhaps there exists a parallel universe in which facts don't matter, where questionable people with questionable ethics are deemed role models, and where toxic agendas are the only noble pursuit. Perhaps this book was written in such a parallel universe.
Disclosure: This review is based on a complimentary audio-version of the book I received and the views expressed are personal.
Read Exclusive COVID-19 Coronavirus News updates, at MyNation.
Last Updated Mar 26, 2019, 4:21 PM IST