After India faced their first loss in an ICC World Cup 2019 match against England, Mehbooba Mufti, former chief minister of Jammu and Kashmir, blamed the orange jersey. The BJP hit back saying statements are simply trivial

New Delhi: Former Jammu and Kashmir chief minister Mehbooba Mufti  blamed the Indian cricket team's new orange jersey for their loss against England at the ICC World Cup 2019 in Birmingham on Sunday (June 30).
"Call me superstitious but I'd say it's the jersey that ended India's winning streak in the #ICCWorldCup2019," Mehbooba wrote on Twitter.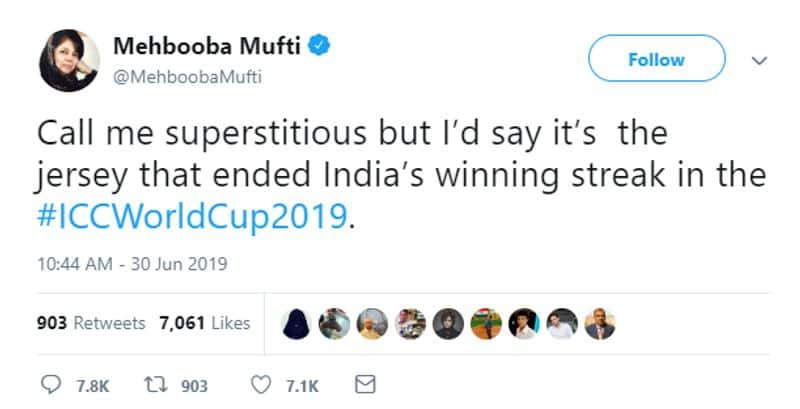 The Indian team sported a second choice jersey for the World Cup match against England, following International Cricket Council's (ICC) home and away rule.
There has been some debate in political circles with regard to the choice of orange as the dominating colour for the second jersey.
"Pakistani cricket fans are rooting for India to win the match against England. Chalo kum say kum cricket ke bahaane (at least in cricket), for a change both countries are on the same page," Mehbooba said in a tweet.
National spokesperson of the BJP, GVL Narasimha Rao hit back at Mehbooba stating that it was her communal mindset that was making her make such trivial claims.
"If colour were to be of any significance, then would Mehbooba Mufti blame the Pakistan's not-so-enthusiastic-performance on the Green colour of their uniform?" questioned Rao.
He further added that India was playing well at the World Cup not because of the colour of their uniform but because of their talent.
When asked if Mufti's comments stem out of some kind of insecurity, Rao was quick to say, "There are some people in the country that are trying to keep their political prospects alive through such communal discourses. We have Owaisi in the south, Azam Khan in the North and Mehbooba Mufti in Jammu and Kashmir," concluded Rao.
On Sunday, England beat India by 31 runs in a high-scoring game to keep their semi-final hopes alive.
England, now on 10 points, will need to beat New Zealand in their last game to qualify for the semi-finals while India (11 points from seven games) will need to win at least one of their remaining two games — against Bangladesh (July 2) and Sri Lanka (July 6) — to seal the last four spot.