'Well, we need two points, definitely. It's an important game for us. And there's still a slim chance for us to actually qualify. But anything's possible. And going up against India, it's always going to be a challenge,' said Chris Gayle ahead India-West Indies game at the ICC World Cup 2019
Manchester: West Indies opening batsman Chris Gayle reflected on his career and picked some of the memorable moments as he got ready to face India at the ICC World Cup 2019.
On Wednesday (June 26), ahead of the clash against India in Manchester, Gayle answered questions ranging from his career to retirement plans to Jasprit Bumrah to the future of West Indies cricket.
Also read: Chris Gayle reverses ODI retirement decision
Full text of Gayle's pre-match press conference.
Question: Chris, you're going to play against India, but you very well know you have got tremendous fan following back home in India. How are you looking at this match?
Chris Gayle: Well, we need two points, definitely. It's an important game for us. And there's still a slim chance for us to actually qualify. But anything's possible. And going up against India, it's always going to be a challenge.
I mean, they've been playing good cricket as well. I'm actually looking forward to it. And everyone knows India's style of cricket and hopefully we can actually conquer that tomorrow and get the better of them.
Also read: World Cup 2019 format, rain rules, Super Over and other playing conditions
Q: How about your fans in India?
Gayle: I'm sure the fans are looking for some entertainment for sure, from not only me, but from all the West Indies guys. Since we've actually been a part of India's fraternity over the last couple of years, I know what style of cricket actually transpires in Indian cricket as well.
But it should be a very interesting game. And like I say, hopefully it will be go down to the wire and West Indies win.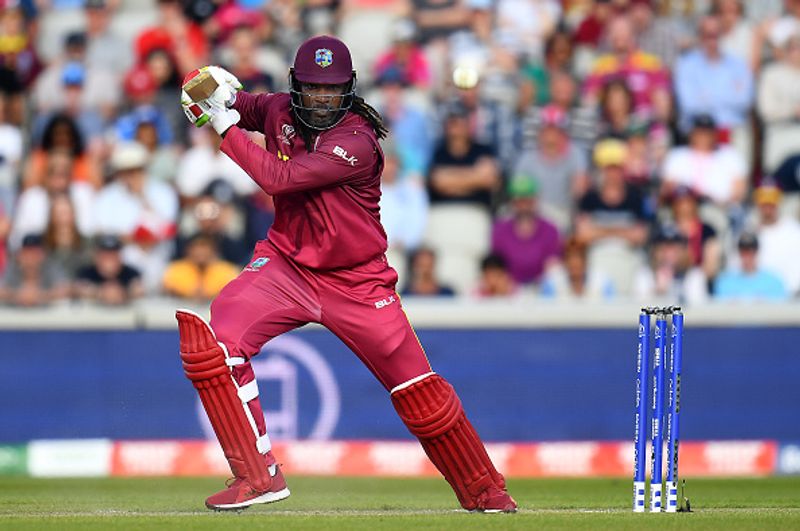 Q: You know, the West Indies started off in great fashion, but somehow down the line started disappointing the fans, even the fans in India. How disappointed are you that some other consistency could not have been kept?
Gayle: As I mentioned, it's very disappointing. That start against Pakistan, everybody with the colours up and the fans say West Indies is actually a threat in the World Cup, even we still have a self-belief, but at the time when you get that first win, you actually lose momentum.
In that middle period, that game against Australia actually kind of cost us big time and that can actually take away the momentum from us. But like I said this is a game of cricket. It's the World Cup as well. It's never over until it's over.
It just goes to show how.
West Indies will actually fight or fought — what's his name, he got 90-odd runs for his team, Coulter-Nile. He actually came and took the game away from us when we cruised into that particular time. It's just one of those things. And as I said, hopefully these youngsters can use these things as a learning experience. And whenever these times occur again we don't make those same mistakes.
Also read: Full schedule of India matches at World Cup with start times, live TV, streaming info
Q: Another three matches, your career for the West Indies will end. If you look at your international career, the time that your best times was not the best time of West Indies cricket but you did your best. So as you look back at your career, like how satisfied or sad you are? And where do you see yourself around the batting of West Indies greats, where do you see yourself?
Gayle: I'm definitely up there. I'm definitely up there with the greats without a doubt. Like I say, I enjoy each and every moment of West Indies, playing for West Indies. Like I said, it's still not the end. I still have a few games to go. Maybe another series to go who knows we'll see what happens.
But like I say, it's been a lot of ups and downs. I've got to say I really enjoy each and every moment. But we share some quality moments with some quality players as well. I started my career with the likes of Courtney Walsh, Curtly Ambrose, you watch them on TV and you realize they're in the dressing room, it's just a bunch of guys.
And Brian Lara, the first captain as well, Carl Hooper. So it's some quality moments when you look back on it. I'll have to analyse it and give you full details, a better exclusive interview on that particular moment, and then you can take it further. But like I said I could not have had a better career as a player representing the West Indies.
Q: What has your advice been to the younger batsmen, the ones who seem to have struggled at the World Cup, whether it be Darren Bravo or anyone else? What are your impressions and your sort of interactions with them been like?
Gayle: I think you mentioned Darren Bravo. I think he only played one game. I don't think he actually played a lot of games. But the likes of (Shimron) Hetmyer, Nicholas Pooran, those guys got some starts, and I keep on pressing in the areas that when they get these starts against opponents, you have to build on it because it doesn't come easy, and you're going to find a difficult time in your cricketing career where you're going to be struggling for runs. So when you get those starts, you have to convert these 50s into 100s and be consistent as much as possible as well. So that was my words to them.
Q: You mentioned Brian Lara a little earlier on. I'm sure you heard the news yesterday he's been taken to hospital but fingers crossed he's going to be okay. I'm guessing everybody on the West Indies team is wishing him well that he gets a speedy recovery?
Gayle: Yeah, we are wishing him well. Although I don't know what the story actually — what transpired with Brian. But like I say we wish him well. Hopefully he'll have a speedy recovery and get him back on the puck as soon as possible.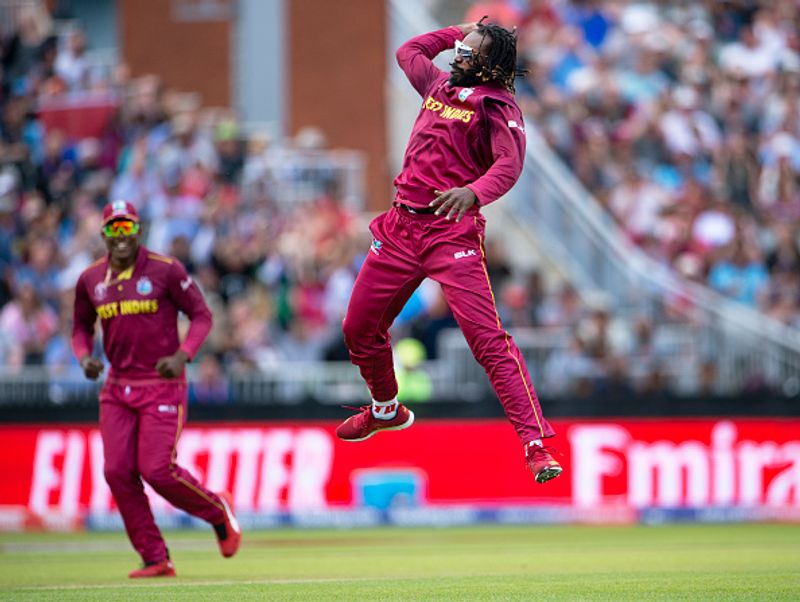 Q: And wanted to ask, the knock from Carlos Brathwaite the other night. How impressed were you with it? And do you know if he managed to get his bat fixed?
Gayle: Yes, I saw him with a couple of bats earlier today. That was a fantastic innings. I'm sure everybody was looking forward to that from Carlos. It's been a while. And it's good to see, Carlos actually came of age and produced such a good innings, got his first ODI 100 as well, so that's fantastic.
But it fell short. It was a very critical moment in the game. But you cannot fault his effort. I must say well done to him. Hopefully he can build on this from a personal point of view for him and just keep working on his game.
Q: You have seen a lot of (Jasprit) Bumrah of late, and tomorrow, once again, resume the rivalry. So, different conditions maybe, because so how do you — what is your advice to that how to tackle Bumrah. As an opening batsman?
Gayle: I mean, in the English conditions, the new ball tends to have a say, earlier in the opening batting innings. But once you conquer that, the batting will tend to become a bit easier.
Like I say Bumrah is the number one bowler in the world right now, if I'm correct. Like I say, he's a world-class bowler, producing all formats, I should say. And just take into stride just another bowler and play according to the situation.
Q: After this World Cup what are your plans going forward? And in your career what are your personal memorable moments and not so memorable?
Gayle: My plans after the World Cup? Maybe a Test match against India and then I'll play, definitely play the ODIs against India. I won't play the T20s. That's my plan after World Cup.
Q: Memorable moments in your career?
Gayle: Two triple centuries in Test cricket. Those two will definitely be on top. A double century in the World Cup as well. Those are a couple of the moments to come up with at this particular time, but there's a lot more to actually talk about. But if I get into detail it will be a long list, to be honest with you. But I'll stick with those for now.
Q: You just spoke about some of the memorable moments with three matches in the World Cup to go. Is there something you would like to achieve other than, for the team, personally? And has there been a moment in your life where you were really angry at yourself in your career as a batsman?
Gayle: Oh, yeah, but no one will actually see it. In these three games, I'd love to get a hundred as well. But if it doesn't happen, I can't actually complain or be too hard on myself. I've actually achieved a lot. But the more — what I really wanted was actually to be in that playoff. What I really wanted was to be in that final four and then anything could have actually happened and then to be able to get my hands on the World Cup. We'll see what happens.
Q: In the past few years, I feel people have become more excited about the way West Indies cricket has been going and shown some really good times. Anybody in this current squad or makeup of the West Indies, because Jason's (Holder) spoken about how you're kind of like a good co-captain there and anyone that's impressed you or are you expecting any big things from that could possibly be a mini-universe boss?
Gayle: Mini-universe boss, that's a serious name. Definitely the future is bright for West Indies cricket, without a doubt. The likes of Nicholas Pooran and Hetmyer, his name has been calling in all forms of the game so far. For these guys to actually believe and build on these things. And the cricket, they can learn as a youngster. Trust me, it will be much, much better for them within their career going forward.
But Pooran, his work ethic — I must commend Pooran's work ethic. It's fantastic for a youngster to actually just come into the team. And he's going to be a world record beater, (knocking on the wood). Nicholas Pooran is going to be a savage youngster, trust me on that one. And like I said, Bravo has been around for some time. And Shai Hope as well.
Definitely have a big part to play in West Indies cricket. He's a guy who actually may be a future captain as well. So he's got a start, I think, going down that line as well. So it's something everyone has to rely on each other, to be honest with you.
Q: You've obviously played a lot against MS Dhoni and this India team. Were you a bit surprised by the way Dhoni went into a shell against Afghanistan in the last match?
Gayle: Honestly, I didn't watch the game, seriously. I didn't watch the game. So I cannot comment on the legend.