'We've had success against each other. We had success in Australia, they had success in India recently. But again, tomorrow's game will all depend on how we play on that particular day,' said Rohti Sharma on the eve of the ICC World Cup 2019 contest between India and Australia
London: India vice-captain Rohit Sharma has predicted a "great contest" against Australia as the former champions face off in the ICC World Cup 2019 at The Oval in London on Sunday (June 9).
Also read: India-Australia match preview
Rohit addressed the media on the eve of the match on Saturday (June 8). He spoke on tomorrow's game, his batting against South Africa. He was also asked about MS Dhoni sporting 'Balidaan' badge. Here is the full text of the right-hander's press conference.
Question: Rohit, firstly, congrats on the hundred (against South Africa. And your record against Australia is very good, but on this ground (The Oval) India has not done very well of late. How do you think of tomorrow's match?
Rohit Sharma: Yeah, I think in the World Cup, we have seen it, you just have to turn up on that day and play good cricket. What we have done in the past is past, so I think we as a team totally believe that we have to be particularly better on that particular day. Yes, we've had good rivalry between the two teams in the last few months that we played good competition between bat and ball. We played really good cricket in Australia, they played really good cricket in India. So it's going to be a great contest.
We have to be good on that day, and we will try and focus on that particular aspect rather than thinking what sort of record we have on this particular ground. I think it doesn't matter, we have to quickly assess the conditions because condition is playing a huge part in this World Cup as we have seen. For us, it will be the same. Just turn up and try and have a good day, do your skills, basics right and then things will follow.
Yeah, I've had a good time, but again, I'm somebody who will not look too much in the future as to what has happened. Of course it gives me confidence to go into the game knowing that, but for me, that particular day will be important, which is tomorrow. So I have to be ready and make sure that I get the job done for the team.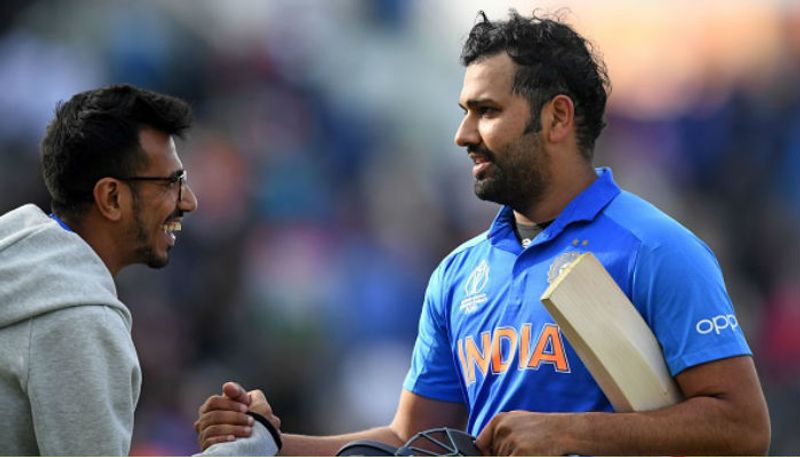 Also read: Virat Kohli's school sends soil to 'bless' him at World Cup
Q: Rohit, Aaron (Finch) seemed to suggest that the recent series would have a big impact on the match tomorrow. Do you think so, and what kind of impact do you think it can have?
Rohit: Like I said, we've had success against each other. We had success in Australia, they had success in India recently. But again, tomorrow's game will all depend on how we play on that particular day. I guess it's the same for them, as well, because we have seen one or two individuals can take the game away from you. What we have done in the past is past.
We have to be good on that particular day, which is tomorrow, and we will try and focus on that, because I totally believe that because it's World Cup and the format is such that you play different opposition every time, and it's not a bilateral series, so you have to focus on that particular day and that particular team on that day. We have done our preparation. We have had a good chat about what we want to do as a team, and yes, probably we all are ready for the game tomorrow.
Also read: India's likely playing 11
Q: We've all heard Virat Kohli's comments on your hundred against South Africa. Where does it rank for you, and how much satisfaction do you take from it given the fact it's a World Cup opener?
Rohit: Yeah, I think it was a massive confidence booster in terms of heading into the tournament. All the cricketers in this tournament want to start well, and it gives you that momentum going into the tournament. And yes, particularly talking about that particular innings, I felt it was not the way I would like to play. Something unusual for me, but obviously you have to respect the conditions, at times the bowlers, as well, which is probably the reason I would say probably one of the best I would say.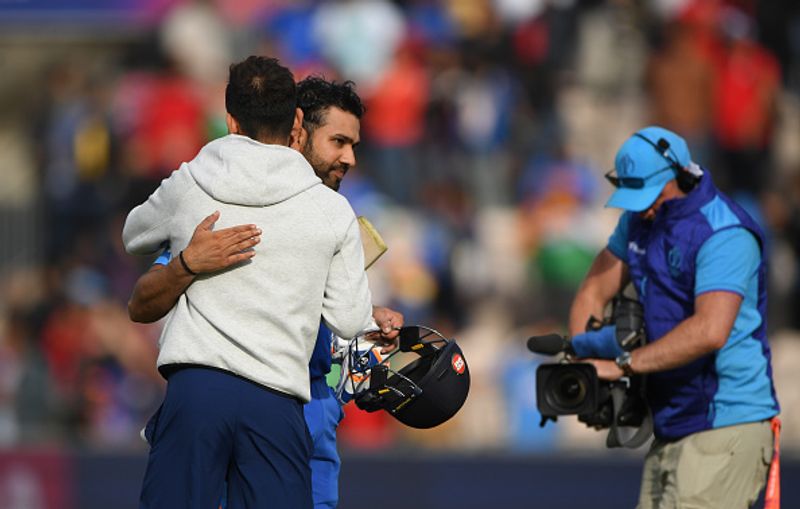 Not the best, but yes, probably one of the best, I would rate that knock amongst the best at the top because it was not the easiest of the conditions. Although, yes, we were chasing not such a high amount of score, but still, it was not that easy. Throughout the hundred overs that we played, there was something in for the bowlers. At times you have to go with your natural instinct and try and bat the condition rather than batting your own batting. So that was a bit challenging, but of course that is what the team expects from experienced players.
Also read: Full schedule of India matches at World Cup with start times, live TV, streaming info
Q: You just said that it was not the way you would like to play, the way you played in Southampton, but you did play like that, and you made sure you finished the game. In Sydney in January you scored a hundred, you could not finish the game. You were very disappointed that day. This thing is starting to come to you that you take that responsibility on your shoulders, that you get set, you finish it. Is that the vice-captaincy? Is it the natural progression as a batsman for you? What has brought about this change in you, this responsibility, this maturity in you. Are you enjoying your game in that sense?
Rohit: I think I have played more than 200-odd games now. If I don't do it now, then when? (Laughter).
So, experience teaches you a lot of things, and that is something that has come into my game of late. The past few years, rather, because you start the innings for your team, and you want to make sure that you start the innings and you finish off the innings, as well. That gives you immense pleasure. And when I did that in the first game, the satisfaction you get finishing the job is something else, rather than scoring a hundred and not finishing off the game.
My aim is always to bat as many balls as possible and see where I can take the game. And also the reason I said is because once I cross a certain score, I tend to just take on from there. But it was not the case in that particular game. I had to see the situation, because I knew it was not going to be easy for the new batter to come in and start scoring runs.
So, my job was just to be there and make sure I held the one end of our batting unit, and then the others came in, chipped in that crucial partnership, as well, which was, again, very, very crucial. The KL (Rahul) partnership off 85-plus or something, and then MS (Dhoni), those were crucial partnerships. So I think this World Cup is all going to be about that. We've got to stick to partnership as much as we can and try and seal the game off there.
Watch: Mitchell Starc speaks on India-Australia game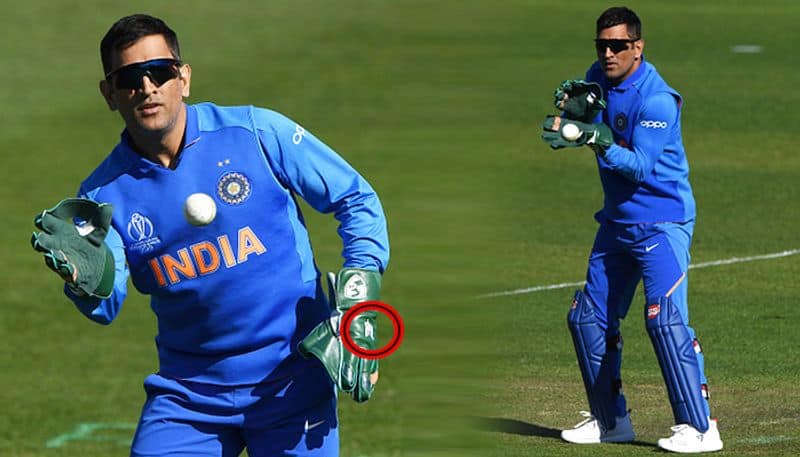 Q: Can I ask what you made of the decision not to let MS Dhoni wear his gloves? There's been a big reaction. Have you been surprised by that?
Rohit: I have no idea about it, honestly.
Also read: ICC denies MS Dhoni permission to wear 'Balidaan' badge
Q: Nothing at all?
Rohit: No, I'm not. See, I'm not the captain. I don't know what's going on with that. Probably we'll see it tomorrow.
Q: Rohit, the West Indies targeted Australia with the short ball early on. The pace bowlers have seemed to have a bit of an impact, in particular Usman Khawaja. How much notice of that have you taken heading into this?
Rohit: Yeah, we saw a bit of that game when these guys were playing. See, short ball for any batsman is not easy, even the best guy who can pull the ball, who can hook the ball will find it difficult. So it's not easy. We understand that. And probably we have the bowling attack to do that. You know, again, having said that, you don't want to be carried away with that. We've got to understand the conditions and make sure that you keep the batsmen guessing all the time, which is probably our idea to do that.
Yes, there will be short stuff bowled, but at the same time, we can't forget the batsmen, most of the batsmen that get out is from that three-metre length. That is what the basic is. But again, as you mentioned, we will see the condition and we'll see what the batsman is doing at that particular time. If he's finding it uncomfortable, of course we will welcome him with that short stuff, but of course those guys play short ball really well. They come from Australia where the bounce is nice and high. So yeah, I mean, we'll see how it goes on that particular day and see if that is going to work for us or not.
Q: I just want to know the extension of that question. Now you have 23 (ODI) hundreds, and the list reads like Sachin Tendulkar, Virat Kohli, Rohit Sharma, the top three. When you started opening five years ago, would you have believed that you'd be there among the top three batsmen for India in ODI cricket?
Rohit: Personally, I don't look into all of that. I don't look into going past someone or getting close to someone. As long as I'm playing, I want to make sure that I do the job for the team. Whatever happens along the way will keep happening. That is an external reward for it. But for me, it's always been going and getting the job done for the team, and that's what always I have focused on. When I started opening the innings, of course it was challenging because I've never done that before in international cricket, but I've come a long way since then until today, and it's through the hard work and understanding what I can deliver as a batsman, and that is what I have focused on.
The journey will continue, and those milestones that you're talking about, I mean, regardless of what happens, I just want to make sure that as many games as I play, I make my team win as many games as possible. That's the sole and whole job of me as a batsman. Yeah, along the way, you get rewards. I will take it any day.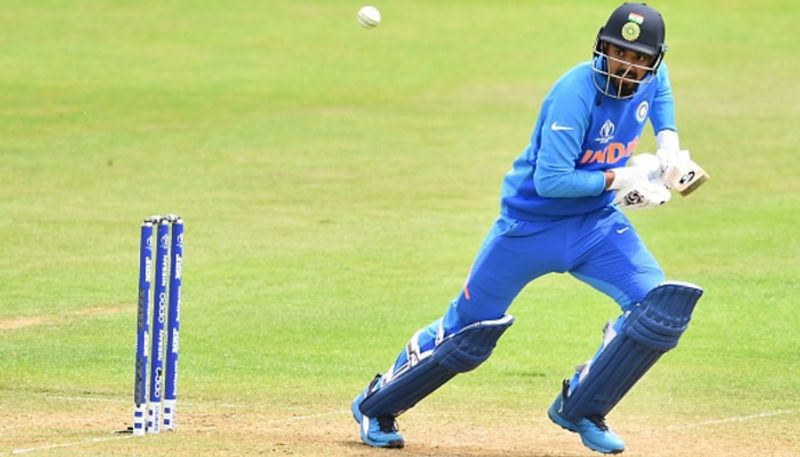 Q. Heading into the World Cup, possibly there was a bit of a concern of the No. 4 position. Here the batsman (KL Rahul) started simply before getting caught at mid off. How does the team deal with that? Does the team tell him? As a team, do you back the batsman, that how to go about it? He got out at mid off. What was that about? What do you say about the No. 4 batsman getting caught at mid off. Probably not the best way to get out. As a team how do you deal with that?
Rohit: See, I mean, he was very much in the line to play that ball. It just stuck in the pitch as we've seen through the innings it was doing. Because he was batting on 26, played about 40-odd balls, so he thought he was in, so obviously after you play a certain number of balls, you want to try and put the pressure on the bowler at some time, otherwise you can't score runs.
You can't just let bowlers keep bowling their length and line. I'm sure he was trying to just push it between miles an hour off and powers to try to find that gap, but unfortunately the ball got stuck in the pitch. It didn't come on as he must have expected. But he looked very good from whatever 40 balls, 42, 43 balls he played. He looked very good, very compact, didn't panic at any given situation, because it was a crucial partnership. That 80-plus partnership that we got, it was crucial at that point, having lost two early wickets.
So yes, he might not seem that he didn't get big runs, but that 26 was as good as getting a 50-plus runs on that pitch because like I said, it wasn't easy. But he looked good, and he looks confident from his approach, whatever you see of him, how he goes about his training, from whatever chats we've had with him.
He feels very confident in his game, and he knows exactly what needs to be done in this particular condition and at that No. 4 position because more often than not he will be coming to bat at No. 4 where the ball will be doing slightly, and being an opener, it's a good advantage for him to get used to that condition quickly, and he's got a technique, as well, to bat there.
You know, I believe it's going to be a good tournament for him.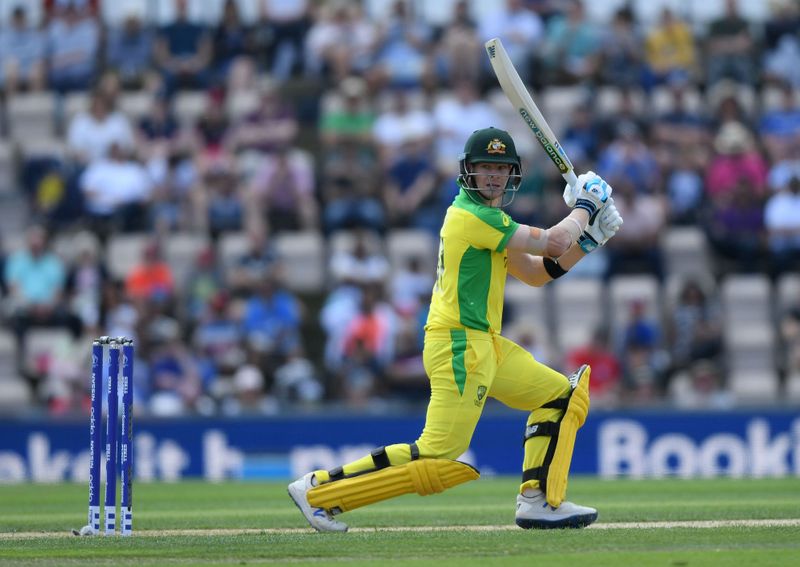 Q: Aaron Finch was in here just now, and he said that Steve Smith he thinks is the best player in the world, the best batsman in the world across all three formats. You've got a pretty good batter across all three formats in your team. Do you agree with Aaron on that?
Rohit: This is a debate we will continue as long as these guys are playing. It's for you guys to judge who's the best, who's not. It's not for me to judge. So yeah.
Q: Before coming to the World Cup you spoke about balancing desperation and patience and what works for you is patience. You showed that in Southampton. Can you talk about the discipline that you've worked between 2015 and this World Cup mentally, like how have you kind of created that belief in yourself that you can do it consistently?
Rohit: Yeah, look, I think after the 2013 Champions Trophy, which we won, that gave me a lot of confidence that I can get the job done at the top of the order. And then since then, I've had my times where I've enjoyed my time, and there has been times where it's not gone my way. But that is what you will get as long as you're playing. This is a very challenging sport.
It's not easy, especially when you come to this part of the world where the conditions are challenging. You know, at times you have to go with your natural instinct and just respect the condition, whatever the condition is there, and then use your experience, basically. That's what I've done in these four or five years.
I've understood my game really well, which probably has been the most important factor, I guess. You know, understanding on certain conditions how you can play and how you can't play, in India, in Australia, in England, South Africa, New Zealand, whichever place you go to. That is something that I've understood how you need to bat on certain given conditions, and realizing the fact that also how important it is for one of your top orders to bat all the way through. So those are the things I've calculated and I've brought into my game, which has probably given me success.
But yeah, again, self-belief is something that I guess has played a crucial part in this five to six years, because if I wouldn't have believed that I can open and do well, I probably wouldn't have been doing it so successfully. So I think that is something that I kept telling myself all the time whenever I got in a position to bat, that I can get the job done for the team. Self-belief. So those are the things that I think have played a huge part.
Read Exclusive COVID-19 Coronavirus News updates, at MyNation.
Last Updated Jun 8, 2019, 11:05 PM IST