Ahead of their IPL 2019 clash against Mumbai Indians (MI), the Virat Kohli-led Royal Challengers Bangalore (RCB) has been boosted by the presence of "Jasprit Bumrah", who was seen bowling at the home batsmen at Bengaluru's M Chinnaswamy Stadium on Tuesday
Bengaluru: Jasprit Bumrah has an unconventional bowling action. It is hard for youngsters to copy the star Indian fast bowler. But, there is one Karnataka bowler who has been doing the same for the past 14 years and is now helping Royal Challengers Bangalore (RCB) as they bid to win their maiden Indian Premier League (IPL) title.
After losing the IPL 2019 season opener against Chennai Super Kings (CSK), RCB face Mumbai Indians (MI) on Thursday.
Also read: Ashwin 'mankading' Buttler divides cricket world
On Tuesday, at Bengaluru's M Chinnaswamy Stadium, as RCB started preparations for their first home game of the season, a few spectators who were at the ground were surprised to see Bumrah bowling at RCB nets.
But, it was not the MI bowler who was bowling at Virat Kohli, AB de Villiers and others. The man at the bowling crease was Karnataka's 22-year-old Mahesh Kumar P.
Also read: Full schedule of IPL 2019
Since last year, Kumar has been a regular at RCB nets during IPL. Also, he has bowled at India batsmen during their training sessions for international games in Bengaluru. The most recent being when Kohli's men faced Australia in a T20I.
"
"It was in 2017 that I bowled at India nets before a match against England. Since then I have been coming to bowl whenever the team is here in Bengaluru. Recently, I bowled before India-Australia T20I," Kumar said.
"I have not copied Jasprit Bumrah. I have the same bowling action since I was eight-year-old. After watching Bumrah in international cricket, now I am trying to follow him on increasing my pace," Kumar, who hails from Doddaballapur, near Bengaluru, added.
On asked whether he met Bumrah, he said, "Yes, I met Bumrah during India nets. It was a brief conversation. I am motivated by his bowling. I hope to interact with him more."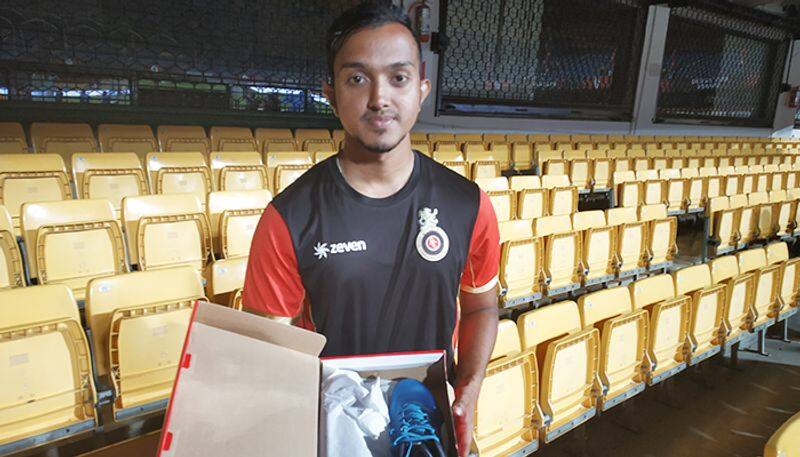 When Australia were in Bengaluru recently, one of the coaching staff invited Kumar to play in Melbourne but the right-arm pacer declined to go as he wants to concentrate on his career in India.
"One of the members of the Australian coaching staff invited me to come and play in Melbourne. But I did not take it up. I want to stay in Bengaluru and play," he said.
Kumar, who is an engineering graduate, said he was told by Kohli to stick to his strengths. "Kohli and others advised me to stick to my strengths."
After his stint at the RCB nets on Tuesday, a surprise gift awaited Kumar as he was presented a pair of new shoes by Bangalore franchise's coach Ashish Nehra.
For the entire duration of IPL 2019, Kumar will be a regular feature at RCB nets in Bengaluru. He hopes to learn a lot and improve his career.
Read Exclusive COVID-19 Coronavirus News updates, at MyNation.
Last Updated Mar 27, 2019, 12:12 PM IST