In an exclusive interview with MyNation, left-arm spinner Shubhang Hegde opens about the ICC Under-19 Cricket World Cup. Among other things, the 18-year-old Bengaluru boy says he would love to bowl to Virat Kohli and Steve Smith
Bengaluru: A genuine spinner. Crisis man. Intelligent cricketer. Fantastic fielder. This is how his coach describes Karnataka's left-arm spinner Shubhang Hegde, who was recently picked in the India squad for the ICC Under-19 Cricket World Cup in South Africa.
A consistent performer in age group tournaments, both for Karnataka and India, the 18-year-old Shubhang is now preparing to deliver the goods and help India win the U-19 World Cup.
Also read: Syed Kirmani ready to help Rishabh Pant
"I am very happy to be in the World Cup squad. It was one of the things I was working towards. I am happy that I got called-up to represent India. My goal is to give my best and help India win the World Cup," Shubhang told MyNation in an exclusive interview.
Currently training at the National Cricket Academy (NCA) in the World Cup preparatory camp, the Bengalurean says he was inspired by his cricketer father, who played for Karnataka Under-20 team, to take up the sport at the age of six.
Also read: Rahul Dravid bats for more Indian coaches in IPL
"I started playing at the age of six. I took up cricket because of watching my father (Samarth Hegde) play. I used to go for his (club) matches in Bengaluru. For the first couple of years I was just playing for fun. Gradually it became a serious sport for me," Shubhang recalled about his initiation to cricket.
Four-time winner India announce U19 Cricket World Cup squad. Priyam Garg to lead the side. pic.twitter.com/VEIPxe2a2n

— BCCI (@BCCI) December 2, 2019
After studying at Vidyaniketan School in Hebbal, Bengaluru, Shubhang moved to Delhi Public School (South) for cricket. Now, he studies at St. Joseph's Commerce College, the same institution that batting legend Rahul Dravid went to.
It was Shubhang's father Samarth who first took him to a cricket coaching academy. Seven years ago, Shubhang was enrolled at the Karnataka Institute of Cricket (KIOC) in Bengaluru and since then is being coached by Irfan Sait, who is the director of the institute.
"I started off as a left-arm medium pacer. After a couple of years I switched to left-arm spin. I used to play with my dad and he suggested me to become a spinner. It has been seven years since I joined KIOC," Shubhang, who made his first-class debut for Karnataka at the age of 17, said.
During last season's Ranji Trophy, Shubhang played his lone first-class game so far. In January 2019, he played at Vadodara and took four wickets in the match that ended in two days with Baroda winning by two wickets.
"It was a good experience (first-class debut). Initially I was nervous. Thanks to the help of the players and the support staff I could overcome nerves. Coach Yere (Goud) sir was with me since the Under-16 days. So, him being there as Karnataka coach was a big bonus for me. He helped me settle down. Also, senior players were always there to help," Shubhang said on that game at Moti Bagh Stadium.
Growing up, Shubhang idolised former New Zealand captain and left-arm spinner Daniel Vettori. However, he admitted he now follows Australian off-spinner Nathan Lyon. "Initially it was Daniel Vettori (my role model). I have met him but haven't spoken to him about my bowling. Of late, I have been watching Nathan Lyon's bowling."
In the ongoing camp at the NCA, the Indian Under-19 team is guided by NCA director Dravid, head coach Paras Mhambrey, batting coach Hrishikesh Kanitkar and fielding coach Abhay Sharma.
When asked about Dravid's influence on his career, he says, "During tours, he keeps us calm and asks us not to be too nervous for the matches. He has spoken about my bowling, batting and given tips to improve both. He has always emphasised on how I can keep improving as a cricketer."
Dravid was India's Under-19 and 'A' team coach before moving to NCA. He took the team to U-19 World Cup title in Australia in 2018 with Prithvi Shaw as captain.
This time, the Under-19 World Cup is in South Africa from January 17 to February 9. India, the four-time champions, are placed in Group A with Japan, New Zealand and Sri Lanka.
It will be Shubhang's first trip to South Africa but he is not too worried about the pitches that might not assist slow bowlers.
"It is my first time to South Africa. We are going early, on December 20. Once we land there we will know about the conditions and what to do. I have played in England. Even there, the wickets did not offer much help to spinners. You need to vary your pace and find a way to succeed," he said.
Ahead of the World Cup, India will face hosts South Africa in a three-match one-day series. After this, a quadrangular series is scheduled involving South Africa, India, Zimbabwe and New Zealand.
Stating that he relies more on flight, Shubhang said he would love to bowl to India captain Virat Kohli and Australian batsman Steve Smith. "I would love to bowl to Virat Kohli and Steve Smith."
The youngster, who also captained India U-19s against Afghanistan recently, is not thinking too far about the Indian Premier League (IPL) and other tournaments but is firmly focused on the World Cup. "I am not looking too far. I just want to focus on the World Cup. I want to take one step at a time."
It is not just about his bowling that has made Shubhang click. He is handy with the bat too. On the tag of an all-rounder, the left-hand batsman said, "I have always counted myself as an all-rounder. Of late, I have been getting a lot of chances to prove myself as an all-rounder and I have done fairly well. My role in this team too is to contribute with the bat as well."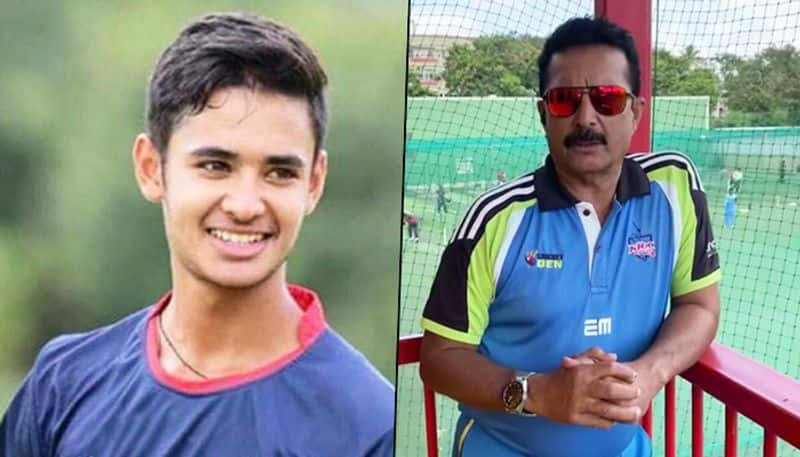 Coach Irfan Sait on Shubhang
"This is a momentous occasion for all of us that Shubhang is selected for the Under-19 World Cup," Irfan told MyNation.
"His dad played with me in Swastic Union CC, in Bengaluru. We were teammates for a long time. He brought his son to my academy (KIOC). At the time, he started as a medium paceman, but changed to left-arm spin. It was a good move.
"I am delighted to say that he is among the old school of spinners. He relies more on flight, dip, turn and the loop. These are special qualities when most of the spinners now are depending only on turn. This young lad is really working hard on revolutions. He has all the good qualities of a genuine spin bowler," he added.
Irfan, who has coached current India stars Manish Pandey, Mayank Agarwal and several other Indian players, also mentioned that Shubhang is a competent batsman, intelligent player and an ideal man for crises.
He explained, "Batting is his additional advantage. He is a very competent batsman. Also, he is blessed with a certain amount of cricketing intelligence, which is really good for him. He is absolutely level-headed and grounded.
"To be honest, we have not seen too many cricketers of his talent in this age group (U-19). He stands out as a genuine spin bowler who can also bat well. Also, he is a fantastic fielder. The passion with which he plays the game is infectious. It rubs on to his teammates. Just by his presence, he makes everyone believe that we are here for serious business of playing the game.
"He is my crisis man. He is the one who bails the team out, whether it was U-14, U-16 or now U-19 and senior division league. Also, last year, in the first division league, Jawans CC was in deep trouble, it was Shubhang who bailed us out with stellar performances in the last three matches. He got us two outright victories."
Read Exclusive COVID-19 Coronavirus News updates, at MyNation.
Last Updated Dec 10, 2019, 1:23 PM IST