KKR sorely felt the absence of a power hitter down the order who can turn matches on its head. It looks like Russell 2.0 is more menacing, hungrier and more devastating.
Kolkata Knight Riders (KKR) were chasing 205 runs in 20 overs against Royal Challengers Bangalore (RCB) on Friday, and 53 runs were needed off 18 balls when Andre Russell came out to bat. 
Russell struggled to get going on the first four deliveries of his innings. But on the third ball of the 18th over, Mohammed Siraj bowled a waist-high no-ball and Russell muscled it for a six. 
And this is what happened on the next nine deliveries Russell faced in the match: 6, 6, 6, 1, 6, 6, 6, 4, 6.
This was the kick KKR needed and he absolutely destroyed RCB's bowling attack. The big Jamaican scored 48 runs off 13 balls and fashioned one of the most memorable victories in the history of the Indian Premier League (IPL). 
Those who witnessed it live will remember Russell's breathtaking knock for a lifetime, and millions of people who watched it on their television screens will be in awe of it. Russell made batting look easier than stick cricket and dispatched almost every ball that came his way across the boundary. 
***
In IPL 2019, Russell is in outstanding form and, by far, is a player that has made the most impact. He has scored 207 runs in four innings at a mind-blowing strike rate of 268.33. Russell has always been a big hitter but we are witnessing something out of the world in IPL 2019. Game after game, Russell is turning up for his side and doing the unthinkable with his bat.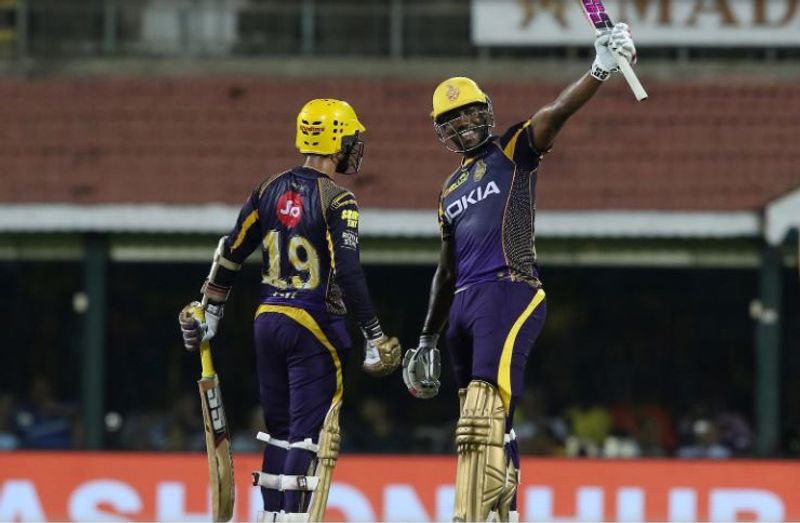 Andre Russell has proven himself to be KKR's saviour on numerous occasions. iplt20.com 
It all started in the very first match of KKR's campaign against Sunrisers Hyderabad. Chasing a stiff 182, KKR still needed 68 runs with five overs to go. The match was still in the balance. 
After the departure of Nitish Rana, the scales appeared to tilt in favour of SRH, but then Russell took charge. A four over extra cover off Rashid Khan was followed by the big West Indian getting stuck into Siddarth Kaul. The first two balls of the 18th over were clobbered by Russell for sixes and then a four three balls later. Nineteen runs came off that over and KKR were on their way. The next over also yielded big runs — two fours and two sixes coming off Russell's bat. That brought down to the equation to a perfectly manageable 13 runs off the final over, and young Shubman Gill did the rest.    
The SRH match set the tone for more fireworks from Russell. And not just with the bat, he is more than handy with the ball too, having taken five wickets already in the four times that he had bowled.
Also read: (IN PICS) IPL 2019: Kolkata Knight Riders pound Rajasthan Royals to climb to the top 
Andre Russell has smashed 22 sixes in 4 matches, in IPL 2019.  
Game 1: 4 sixes
Game 2: 5 sixes
Game 3: 6 sixes
Game 4: 7 sixes
The secret behind 'Russellmania' in IPL 2019
In an interview after the match against RCB, Russell said that he is special and he knows it. Shades of his Jamaican mate Chris Gayle there in terms of pride. He not just emulates Gayle in hitting, but also in terms of attitude. Talking about his batting, Russell said that he keeps things very simple and tries to remain as calm as he can. He added that even when he is going through a 'purple' patch and hitting the ball as well as he can, he isn't taking anything for granted and approaching every match as a new challenge. 
For a finisher, it is very important to feel confident and have a calm head. And that's exactly what Russell is saying and doing at the moment. 
Technically, he is doing the best he can. He is hitting the ball as straight as he can and his head stays absolutely still even while playing some of the most destructive and outrageous strokes. He doesn't try to play too many unorthodox shots and stays focused on exploiting the weaknesses of bowlers by sticking to his strength, which is to stay back in the crease and hit the ball powerfully down the ground.
Also read: IPL 2019: KKR's Andre Russell emerges as 'star of the week' 
However, too much dependence on one player can be dangerous in a long tournament like IPL. 
In IPL 2019, Russell has bailed out KKR from very tricky situations and delivered when it mattered the most. 'Finishing' is one of the toughest jobs in T20 cricket, but the KKR all-rounder has mastered the art. He is making hitting sixes look easy and opposition bowlers look ordinary. 
It would be fair to say that things could have been completely different for Kolkata without Russell's heroics, and they wouldn't have been sitting at the top spot on the points table after five matches. 
KKR opener Chris Lynn said in an interview that Russell is KKR's billion dollar man. 
"We keep putting him (Russell) in tough situations and he keeps lifting his game. He is just too good. 215 was probably par on that wicket," Chris Lynn said after the match against RCB. 
Lynn has always been KKR's go-to man whenever they have needed quick runs. Lynn and Sunil Narine have often got KKR away to whirlwind starts and with Russell, Robin Uthappa and captain Dinesh Karthik himself down the order, the KKR batting line-up is an envy of any team. 
Also, if we look at the list of leading wicket-takers of the tournament, Russell is the only KKR bowler in the top 20. 
However, it is very clearly evident that KKR is depending heavily on Russell and it is crucial from KKR's point of view that more players step up with match-winning performances.  
Russell had missed the 2017 IPL season due to a ban imposed for being guilty of not reporting his whereabouts as required by the World Anti Doping Agency (WADA). KKR sorely felt the absence of a power hitter down the order who can turn matches on its head. It looks like Russell 2.0 is more menacing, hungrier and more devastating.