Sportspersons including batting legend Sachin Tendulkar have come forward to contribute to coronavirus (COVID-19) relief works. Tendulkar is donating money to Prime Minister's National Relief Fund (PMNRF)
Mumbai: As India fights against the novel coronavirus (COVID-19) pandemic, sportspersons have come forward to make donations. Batting legend Sachin Tendulkar too has joined to contribute to Prime Minister's National Relief Fund (PMNRF) and Maharashtra Chief Minister's Relief Fund.
According to Mumbai Mirror, Tendulkar, a former Rajya Sabha MP, will donate Rs 50 lakh for coronavirus relief works.
(You can contribute to PM relief fund here)
The 46-year-old former India captain often does charity work without publicising it. Now it he had decided to do the same. However, a source revealed about Tendulkar pledging money for coronavirus relief works.
Also read: MP Rajeev Chandrasekhar releases Rs 2 crore for Bengaluru hospitals
"He does not want to speak, he regularly contributes to relief funds during calamities," the source told the newspaper on Friday (March 27).
Also read: Pathan brothers donate face masks in Baroda
Last month, Tendulkar had flown to Australia to play in a charity match to help those affected by bushfires. He had played for Ricky Ponting, Brett Lee, Brian Lara and others in Sydney.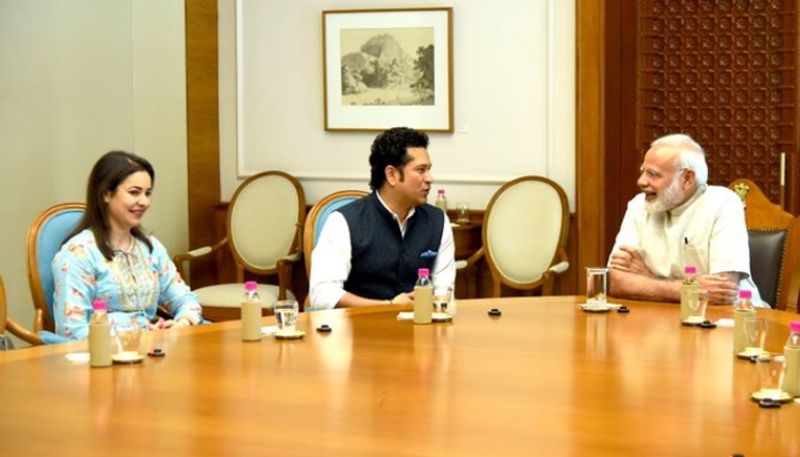 In May 2017, Sachin Tendulkar and his wife Anjali met PM Narendra Modi
Earlier, Tendulkar supported Prime Minister Narendra Modi's "Janta Curfew" on March 22. He had hailed it as "right step". The entire nation came together on that day to applaud those involved in combating coronavirus.
Simple things are often the hardest to do, because they require consistent discipline & determination.

Hon'ble PM @narendramodi ji has asked us to #StayHomeStaySafe for 21 days. This simple task can save millions of lives.

Let's all unite in this war against #COVID19.

— Sachin Tendulkar (@sachin_rt) March 24, 2020
With India now under a 21-day lockdown, Tendulkar urged people to stay at home and follow government's directions and also health experts.
"Our government and health experts have requested us to stay at home & not venture out. Yet many people are doing so. My family & I are at home, will not be stepping out for the next 21 days. I request you all to do the same. #CoronavirusLockdown," Tendulkar had tweeted on March 25 with a video.
Yesterday (March 26), Mahendra Singh Dhoni had contributed Rs 1 lakh to support the families of daily wage workers in Pune. This piece of news was shared by Dhoni's wife Sakshi on Instagram.
Earlier, Pathan brothers, Irfan and Yusuf donated face masks in Vadodara. Also, BCCI president Sourav Ganguly contributed rice worth Rs 50 lakh in West Bengal.
Our government and health experts have requested us to stay at home & not venture out. Yet many people are doing so.
My family & I are at home, will not be stepping out for the next 21 days.
I request you all to do the same. #CoronavirusLockdown pic.twitter.com/WG2pkd6Ljc

— Sachin Tendulkar (@sachin_rt) March 25, 2020