The trailer of Sooryavanshi starring Akshay Kumar, Ranveer Singh and Ajay Devgn released on March 2. Here is a small effort by the Just for Laughs team on MyNation to entertain you with a meme derived from the movie dialogues.
The trailer of Akshay Kumar's upcoming film Sooryavanshi released on March 6. Helmed by director Rohit Shetty, the movie stars Akshay Kumar and Katrina Kaif in the lead roles. The trailer of Sooryavanshi begins with Ajay Devgn narrating the various terrorist attacks on Mumbai. We are then introduced to the newest member of Shetty's cop universe, DCP Veer Sooryavanshi, and it is up to him to stop the biggest terror threat coming for Mumbai. 
The four-minute-fifteen-second long trailer has guns blazing, cars blowing up, amusing dialogues and what not. The highlight, however, is our three heroes from Singham, Simmba and Sooryavanshi engaging in a hilarious banter right before they are about to go out and kill some bad guys.
Yes, Sooryavanshi dialogues remind us of several real-life situations – even when your girlfriend claims you are the only one she talks to but her mind voice screams out the bitter truth. In a particular scene of Sooryavanshi, Akshay's character in a hoarse tone expresses his inner voice saying, "Tumhare tarah 40 log aur hai". And in another, Ranveer's line strikes a chord with the youngsters when he says, "Idhar alag level ka dhandli chal raha hai sir…" It no doubt gives you the rush of feelings.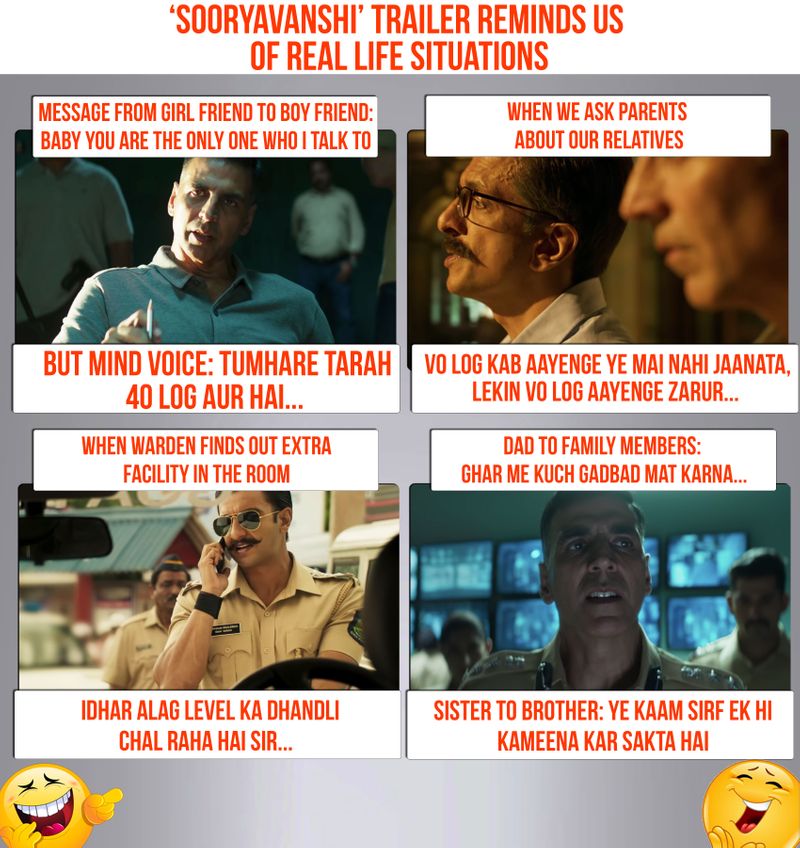 Last Updated Mar 2, 2020, 8:11 PM IST