In our response to the appeal put out on social media to share screenshots or other information related to doxxing, we came across a twitter handle, the owner of which proudly proclaims the impact of her doxxing
Bengaluru: The world has come to an abrupt halt as the coronavirus pandemic has extended its tentacles far and wide, killing people at will and affecting others disdainfully. 
But there are some who use this pandemic to doxx NRIs and get them traumatised as well. In our continued expose on those who doxx NRIs, we came across a twitter handle @irenaakbar. 
On her twitter handle, she proudly proclaims that due to her exposing of Indians abroad, another Indian expat was sacked, faces fail in the UAE for insulting Islam. 
In the response to the appeal we put up on social media, a twitter user going by the name Richa had exhibited these tweets of @irenaakbar. 
In the same compilation, we can also see that she thanks and exhorts another person with the name Asif to expose a few NRIs in UAE. She even tags another person who she says will help in identifying such bigots. 
Here is the tweet: 
Thank you for taking this up. 🙏🙏
More power to you guys. pic.twitter.com/zOJgefwT3t

— Richa (@TheMinioness) April 23, 2020
When we dug further about her accounts, we found out that she had blocked us.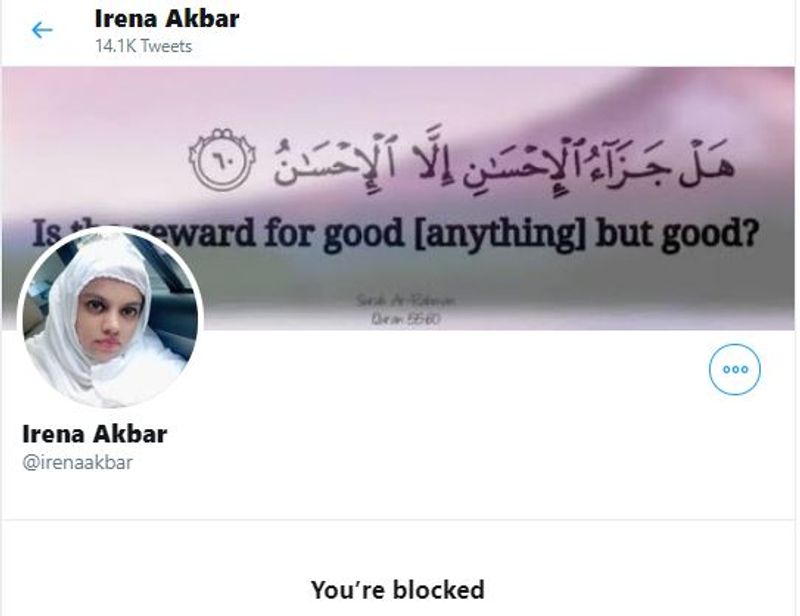 There were also calls for her arrest. 
@Uppolice As per article 21, Please arrest @irenaakbar who lives in UP and sharing private information of Indians living in gulf subjecting them to physical harm.

— Ethan MaVericK Hunt (@EthanHuntDark) April 23, 2020
And as the call to punish NRIs is clear here, another twitter user was quick enough to point that many tweets were fake and they were exposed. 
Idiots @RanaAyyub and @irenaakbar may please note https://t.co/OUV9FRDASV

— gvsafamily (@GVSAFamily) April 25, 2020
Not just that, it is also alleged that she had been helping out only Muslims and continued to sideline people of other religions. 
So after my continuous tweet asking for help from @irenaakbar she has locked her account. So MADAM since you are creating fight between hindu and muslim and worried only about muslim community just because you are a muslim, we are also human. Please raise voice for us also.

— हिंदू शेरनी (@Simmi_Rawat) April 22, 2020
Well, doxxing continues to be a malaise as several Indians have been victims of it. What's more! The ones who doxx others even raise their collars and wear it as a badge of honour. 
But on the other side, these victims are left to fend for themselves. On a foreign land, they are harassed and find it extremely difficult to weave through the land of the law there and only end up being traumatised. 
 
Read Exclusive COVID-19 Coronavirus News updates, at MyNation.
Last Updated Apr 25, 2020, 6:17 PM IST