Here's one more twitter user who doxxed an Indian in Saudi Arabia for his personal views.

Bengaluru: In our perennial efforts to expose those doxxers who put the lives of fellow Indians under peril, here is one more account we came across.
This Twitter user uses the handle @azamnawaaz. And who has he doxxed?
Well, one look at it and you will come to know.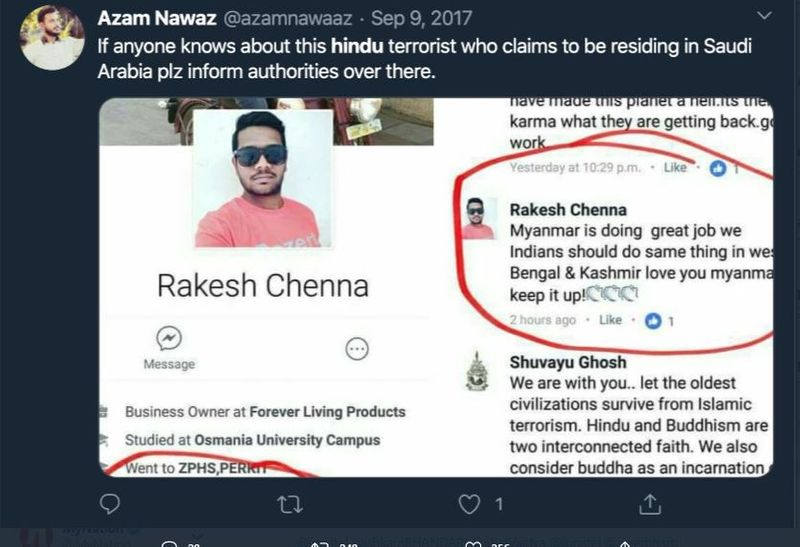 He has targeted a person by name Rakesh Channa who resides in Saudi Arabia.
His outrage doesn't get limited to doxxing alone.
A look at his other tweets as posted by another user will leave you shocked!
THREAD :

Indian Secularism = Hinduphobia

Promoted by #Jehadis & supported by every F#cking government agency. Now its CRIME to use hindu symbols anywhere.

1/2 pic.twitter.com/U7Gn8nmekt

— Vikas Chaudhary (@SWABHIMANY) April 25, 2020
Another example of HInduphobia promoted by POLICE.

Are we living in Islamic country ?? pic.twitter.com/2m4qzMMyF0

— Vikas Chaudhary (@SWABHIMANY) April 26, 2020
Another interesting tweet was about Azaan that he had put out.  Another user had exposed it.
Aur tum north India me hatred phailao?? dogle pic.twitter.com/6KqVyVnrUy

— 🇮🇳mαnσj ѕíngh 🇮🇳 (@sonbhadra) April 27, 2020
Well, our intention, we reiterate is not to focus our lens on religion, faith or communalism. All that we are doing is to expose doxxers as they have made the life of other Indians hellish.
In our relentless coverage of such doxxers, we have come across dozens of them who have reported Indians sitting in India or even in Australia.
They are dance trainers, workers in air services or software engineers. In the doxxing tweets, these evil-minded persons don't even hesitate to put out their personal information and seek their punishment by tagging authorities.
Interestingly, in some posts, the literatures put up by NRIs only point out the hostility of a few towards their countrymen. In other tweets, they talk about the violations not even referring to their religion.
But most reprehensibly, these doxxers view everything through the prism of religion, communalism and hate. And they don't think twice before instigating others about them or seeking their arraignment.
But in our endeavour of exposing doxxers, we don't resort to communalism nor fanaticism. We just mention facts and inform you of how our brothers and sisters in foreign countries are forced to undergo untellable misery and trauma.
 
Read Exclusive COVID-19 Coronavirus News updates, at MyNation.
Last Updated Apr 28, 2020, 1:06 PM IST