Scratching the surface reveals a Manipuri's hurt sensibilities; what started as a student unrest is slowly becoming a civil society agitation
Manipur University Vice-Chancellor Adya Prasad Pandey is now the villain of the north-eastern State, which has been marred with strikes, protests and violence for the last 15 days with a demand to remove him for his alleged irregularities. The epicentre of the protest has been the State capital Imphal. It is spearheaded by the Manipur University Students Union (MUSU).
Manipur University has been shut for days together, with no academic activity going on. The agitation was kick-started on May 30. But student leaders with whom MyNation spoke say the trouble had started soon after Pandey took over as the vice-chancellor in 2016.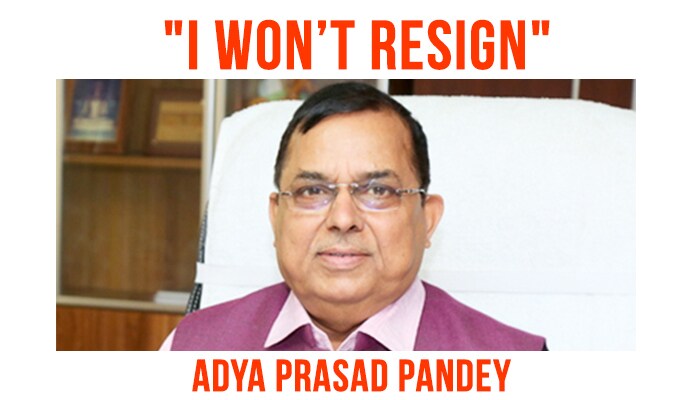 Dayaman Mangang, the president of MUSU, tells MyNation, "Where do you want me to start against Mr Pandey? The list is endless. He has indulged in financial misappropriation over the years. For instance, an answer sheet for the exam could be procured locally for Rs 5. He decided to order the same from a Lucknow-based firm that costs Rs 15 — that too bypassing the university bodies whose prior approval is a must."
Now, both Manipur University Teachers Association (MUTA) and Manipur University Staff Association (MUSA) have extended their support to the students' agitation and their demand for the vice chancellor's ouster.
Sources confirmed to MyNation that 115 teaching staff posts were vacant for years, which have not been filled in spite of repeated reminders. Teachers were unhappy with his brazenness, too. At least 29 out of 32 heads of the departments (HoD) have resigned as a mark of solidarity with the activists so far.
To make things worse, the Democratic Students Alliance of Manipur or DESAM has also extended its support to the ongoing protests.
"
The students' union called for a three-day long strike between July 17 and July 19 that saw violence and an unprecedented police crackdown. Police had to resort to lathi charge and aerial firing to control violence on the streets of Imphal. Civil society took to streets in the night with torches, shouting slogans against Pandey.
During these three days, vehicles were off the road and all commercial business observed complete shutdown leaving pharmacy and hospitals. Since Saturday, the internet has been snapped off in the entire state so that no inciting videos can be circulated through social media.
Meanwhile, Chief Minister Biren Singh met with Union Minister Prakash Javadekar in Delhi last week to constitute an enquiry panel that will probe alleged impropriety by Pandey, the man who is central to this massive unrest. The committee includes University Grants Commission (UGC) officer JK Tripathy and HRD ministry official Surat Singh as members. But students believe the choice of members are improper as they share a 'professional bonding' with Pandey.
"
However, scratching the surface reveals a Manipuri's hurt sensibilities. Mangang, president of MUSU explains, "He moves around with his Y-category security in a bullet-proof car even inside the campus. Are we terrorists? He is barely here in Manipur for 10 days out of 30 days a month. That does not just violate the Manipur University Act, 2005, which allows him to take leave only in six months but bares the fact that he doesn't love this place. He resides outside the campus."
When Mangang was blurting out his frustration, he was giving a sense what is pent up in the heart of so many young Manipuri students.
But brazen as he can be, Pandey, on July 24, declared, "I will not tender my resignation." Even as Manipur continues to simmer! What started as a student unrest is slowly becoming a civil society agitation.
Read Exclusive COVID-19 Coronavirus News updates, at MyNation.
Last Updated Jul 29, 2018, 12:54 PM IST