With all products the satirical website claims to sell priced at Rs 420, the spoof is clearly directed at the spate of corruption charges the Congress-led UPA government faced
New Delhi: This September, when Congress president Rahul Gandhi became part of a Twitter hashtag where he talked about the need for made-in-Chitrakoot mobile phone handsets while addressing an election rally in election-bound Madhya Pradesh, little did he know how his campaign would backfire. Within days, a website has popped up by the name www[dot]madeinamethi[dot]com. No wonder, the sarcastic content is meant to drive home the point that Gandhi has been unable to make his own constituency Amethi a manufacturing hub.
Look of website
The first thing one notices is a smiling Rahul Gandhi in a three-piece suit, designated as the chief executive officer of the portal. It fictitiously quotes him as saying, "My dream is to set up so many mobile factories in India that the number of phones surpasses the number of phone users." Not long ago, Gandhi, on the parliament floor, had taken a dig at Prime Minister Narendra Modi, calling the current government "suit boot ki Sarkar" (government of the rich).
What's nobody will miss is the photo of international adult movie star Mia Khalifa next to him, projected as a "social worker". In fact, a quote is attributed to the adult entertainment star, which goes, "Not many people know that MIA in my name stands for Made in Amethi."
The designers have turned Mia prominent by turning it into an acronym MIA.
'It's all about us'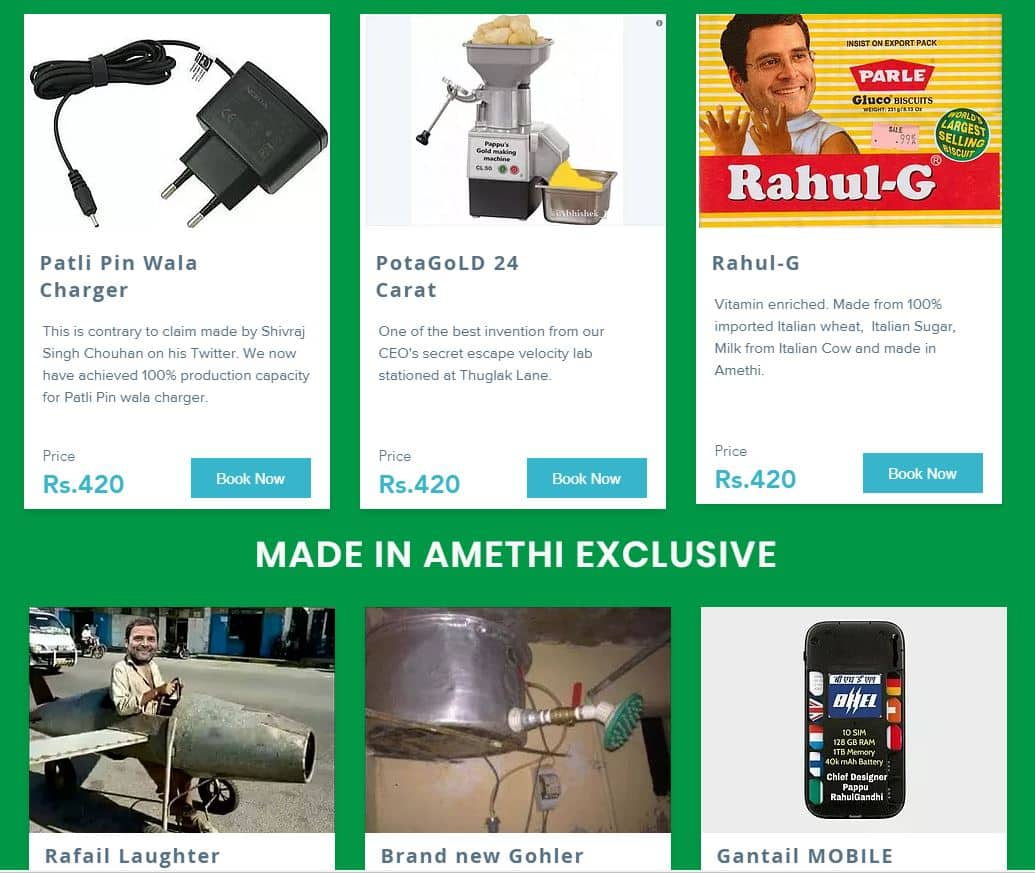 That's how the website describes 'Made in Amethi'.  It says, "This is the drama project by our young and bachelor CEO Shri Rahul Gandhi from the famous house of Gandhis, also known as Thugs of Hindustan. We aim to sell various imaginary products that our CEO Shri Rahul Gandhi launches at his rallies. In case the website is down due to heavy traffic, please bear with us like (sic) we do with Rahul ji."
"This website," the spoof continues, "is a work of fiction, very much like Rahul ji's rallies." "The website and its content intend to make people laugh," the site says adding that Rahul ji's speeches evoke a similar reaction from the people. "We are not responsible for any positive side effect you develop due to the healthy dose of laughter," it concludes.
Of 'dictators' and 'playboys'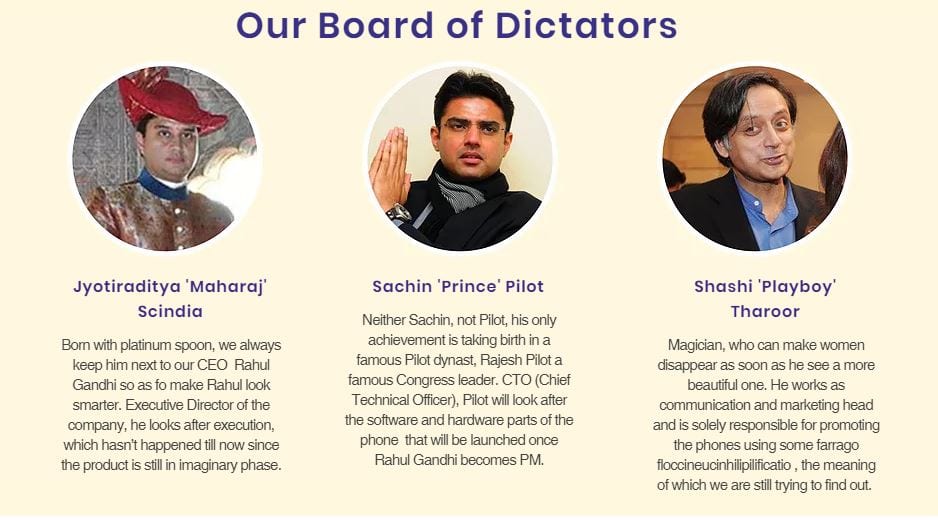 Board of dictators — not directors — that's how the spoof site describes Jyotiraditya Scindia, Sachin Pilot and Shashi Tharoor, the three close aides of Rahul Gandhi. The brief biographies of the three try to focus on nepotism in the Congress, albeit in a funny manner.
For instance, Scindia is described as someone "born with platinum spoon" who is always kept next to CEO Rahul Gandhi "so as to make Rahul look smarter". He is the executive director whose job is to execute projects "which hasn't happened till now since the product is still in the imaginary phase".
Sachin Pilot is the CTO (chief technical officer) who "will look after the software and hardware parts of the phone that will be launched once Rahul Gandhi becomes PM".
Shashi Tharoor is given a middle name "Playboy". This is how he is described: "Magician, who can make women disappear as soon as he sees a more beautiful one. He works as the communication and marketing head and is solely responsible for promoting the phones using some farrago floccineucinhilipilificatio, the meaning of which we are still trying to find out. "
Products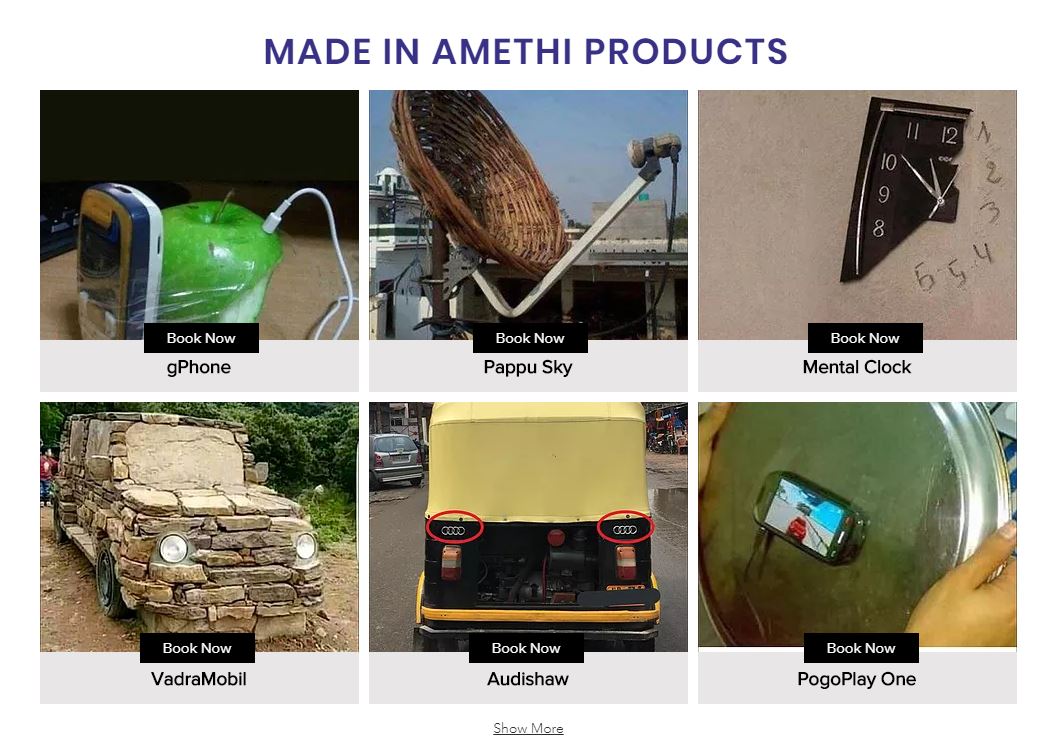 The website does not stop at that. It makes a detailed list of products under the imaginary banner of "Made in Amethi". An old Nokia charger that is now almost out of use, a mobile made by Bharat Heavy Electrical Limited (BHEL), an imaginary machine that turns potato into gold, a broken wall clock — the list of digs are endless.
Needless to add, none of the products exists in actuality apart from the charger that has become extinct. Recently, Gandhi was embarrassed when he talked about mobile phones made by BHEL while registering his protest against the Rafale deal. An old video where Rahul Gandhi is heard saying, "Put potato from one side of the machine and it will be converted into gold," is still popular among social media users.
And with all products sold at Rs 420, the satire is clearly directed at the rampant corruption charges the Congress-led UPA government faced.
Whodunnit?
Hasiba Ameen, the Congress's social media coordinator, saw a BJP hand in it. ""Sanghis (BJP) are scared and hence using propaganda to ridicule all the great work done in Amethi," Hasiba tweeted.
But a couple of BJP leaders whom MyNation contacted refused to comment on the issue.
Why now?
Though Amethi is in Uttar Pradesh and there is no election taking place there as of now, the website questions the lack of development in Gandhi's own constituency, ahead of the 5 state Assembly elections.
The Congress president has grabbed news headlines for his "made in" fixation. Not only in Chitrakoot but also in Mandsaur in June this year, Gandhi said that the local population (in poll-bound Madhya Pradesh) deserved to produce 'Made in Mandsaur' products. Gandhi's fixation, in fact, goes back to 2014 when he said he would like to see the US president wear 'Made in Mirzapur' watches.
Sources say although BJP isn't directly involved in the creation or maintenance of the site, unlike what is being speculated, the job might well have been outsourced.
Next time, the Congress president addresses a rally, chances are high that the locals will be spared Gandhi's obsession with "made in".