A three-member selection committee comprising the Prime Minister, Chief Justice and the Leader of Opposition chose former Delhi police commissioner Alok Verma as the next CBI Director
New Delhi: Doing justice to a politician's image of an opportunist, Congress's Mallikarjun Kharge has shot off a strongly worded letter to Prime Minister Narendra Modi, questioning why ex-CBI director Alok Verma has been unceremoniously and quite abruptly sent on leave while, as the leader of his party in the Lok Sabha in 2017, he had objected to Verma's appointment as the director in the first place.
Also read: Mallikarjun Kharge echoes in Parliament what Rahul Gandhi said overseas: RSS no different from Muslim Brotherhood
Kharge, 2017
A three-member selection committee comprising the Prime Minister, Chief Justice and the Leader of Opposition chose former Delhi police commissioner Alok Verma as the next CBI Director. But Kharge wasn't convinced. He sent a three-page long dissent note to Prime Minister Modi citing Verma's 'inexperience' in investigating cases of corruption apart from his short stint of 18 months at the state vigilance.
Kharge supported RK Dutta, then a special secretary in the home ministry, for the post. In his note, the Congress leader said Dutta's 208 months of experience stood him in better stead than Verma's 18 months.
Also read: Mallikarjun Kharge to return to Karnataka as chief minister?
Then a staunch opposer of Verma, Kharge noted, "It is incumbent on this committee that the candidate who outranks other candidates on the parameters of experience in the field of anti-corruption and integrity must be accorded highest preference." He argued that in his pursuit to stop Alok Verma from becoming the CBI director.
 Kharge, seeing his dissent wasn't stopping Verma's passage, went on record to sharply accuse, "It thus gives rise to apprehensions that the process of selecting the director, CBI, has been vitiated and is being manipulated to pre-empt the decision to be arrived at in the meeting of the selection committee".
Kharge, 2018
Today, October 25, Kharge shot off another letter to the Prime Minister. On this occasion, in a four-page letter, Kharge has taken a complete U-turn.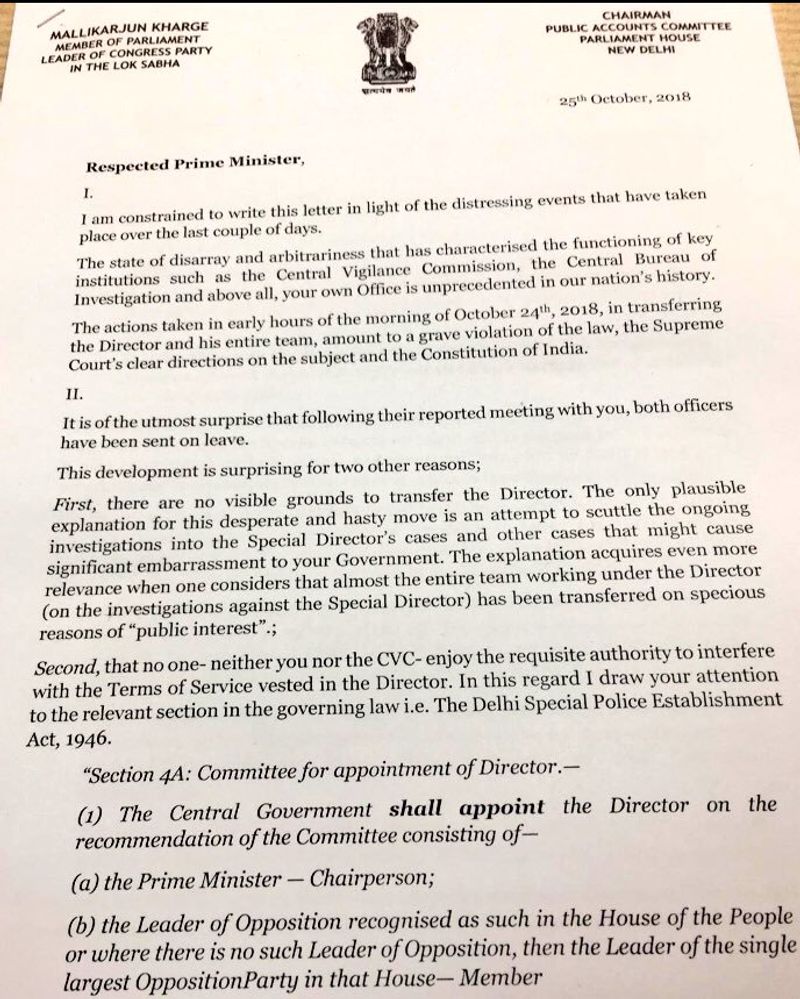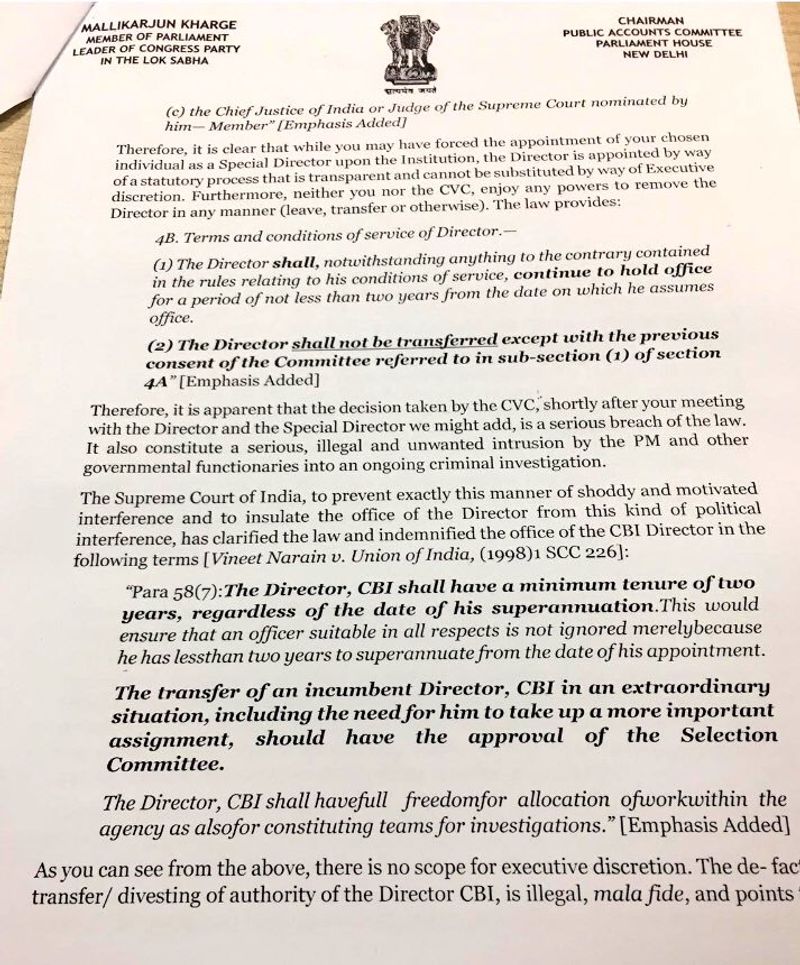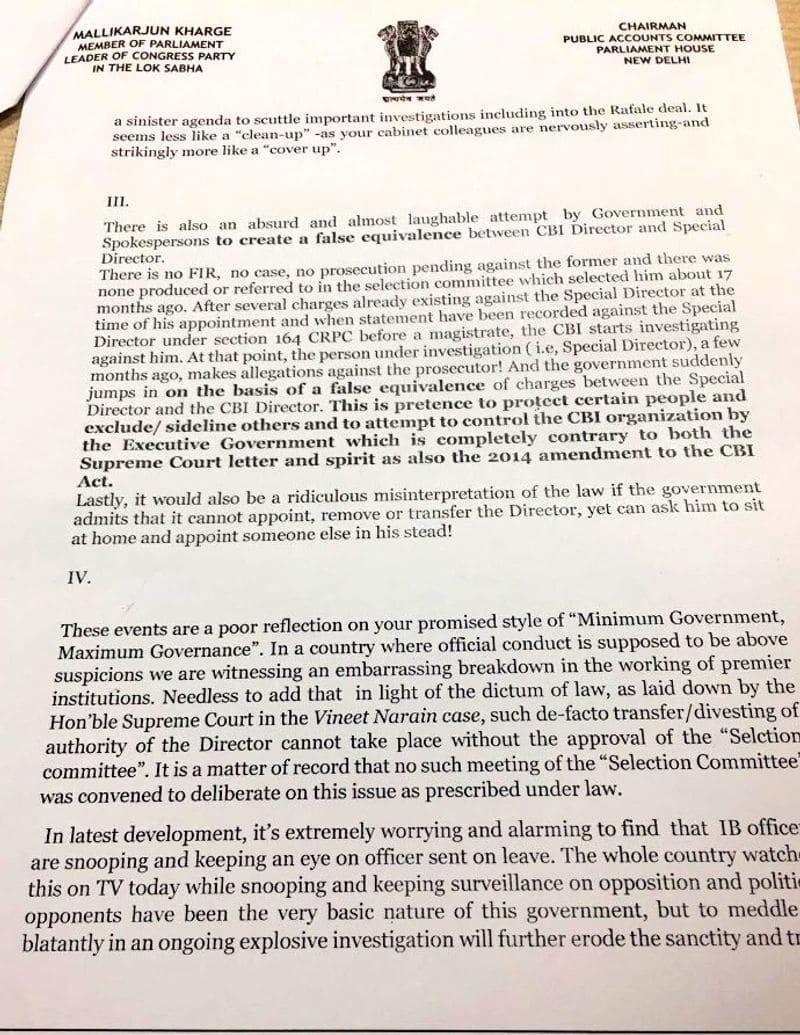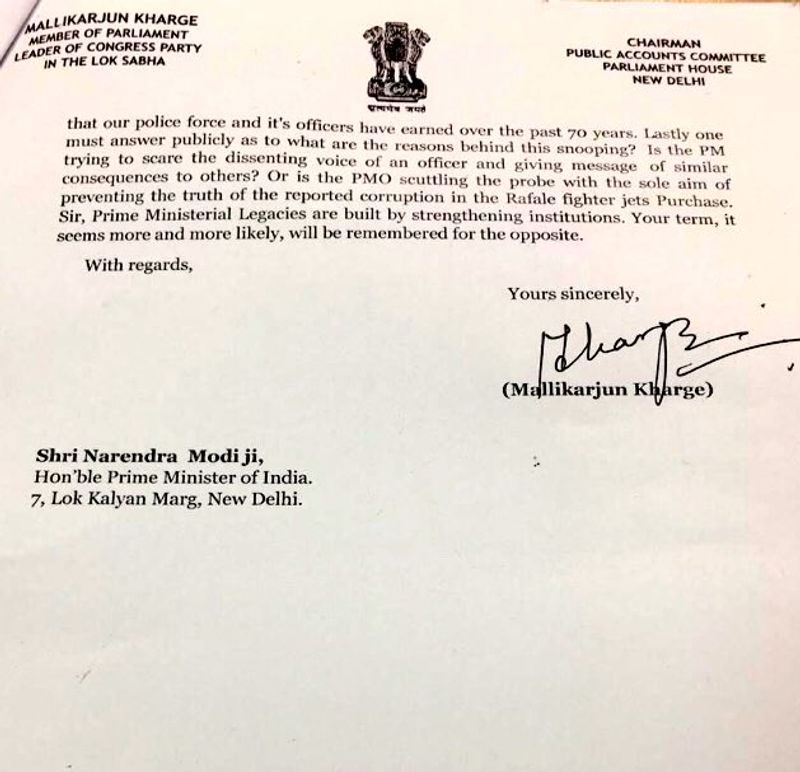 Kharge's letter reads: "I am constrained to write this letter in light of the distressing events that have taken place over the last couple of days". He was referring to the 'CBI raiding CBI' and subsequently the government intervening at the dead of the night to see both the warring parties — CBI's No 1 Alok Verma and No 2 Rakesh Asthana — forced to go on leave and appointing another officer Nageshwar Rao as the interim chief of the premier investigation agency of the country. But this time, Kharge is batting for Verma, the very person he had opposed tooth and nail a year and a half ago.
This time he wrote, "…no one — neither you nor the CVC — enjoys the requisite authority to interfere with the Terms of Services vested in the Director (Alok Verma)."
Kharge adds, "There is no FIR, no case, no prosecution, pending against the former (Alok Verma) and there was none produced or referred to in the selection committee which selected him about 17 months ago. After several charges already existing against the special director (Asthana) at the time of his appointment and when statement has been recorded against the special director under section 164 CRPC before a magistrate, the CBI starts investigating against him."
Kharge now posits that the 'inexperienced' and hence 'ineligible' Verma is now good enough for retention.
Congress's grand plan
But Kharge is not working in isolation. Congress president Rahul Gandhi has himself, in a series of tweets, not only extended his support to Verma but also portrayed him as a scapegoat because of his initiative to act on complaints on alleged irregularities in the Rafale deal.
PM removed the CBI Director to stop him from investigating Rafale.

Mr 56 broke the law when he bypassed CJI & LOP.

Mr Modi, Rafale is a deadly aircraft with a superb radar. You can run, but you can't hide from It.

— Rahul Gandhi (@RahulGandhi) October 24, 2018
The Congress held a press conference in Delhi on Thursday to announce they will gear up for a nationwide protest against the removal of Verma — never mind that the same party was unhappy even with his appointment.
The Congress has instructed all its state units or Pradesh Congress Committees (PCC) to agitate in front of CBI branch offices across the country. Sources say all spokespersons have been briefed to link this removal to the Rafale deal—an allegation that didn't quite stick after the denial from Dassault Aviation, French President Emmanuel Macron as well as Anil Ambani.