While Indian airspace had witnessed a maximum of 33 near-miss incidents in 2014, this year 26 incidents of the type have happened till June 30. Worse, DGCA officials investigating the dreadful frequency of such incidents expect the numbers to cross 50
Close shaves with death in the form of near-miss air disasters are happening every week in India
While from 2014 to 2017, the Directorate General of Civil Aviation (DGCA) reported around two near-miss incidents on an average a month, this year the number has doubled — 4 such incidents in a month!
Also, while Indian airspace had witnessed a maximum of 33 near-miss incidents in 2014, this year 26 incidents of the type have happened till June 30. Worse, DGCA officials investigating the dreadful frequency of such incidents expect the numbers to cross 50.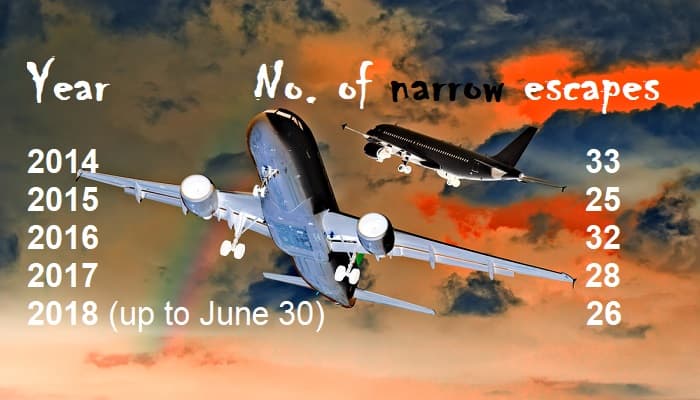 Last month, a mid-air collision was averted after two IndiGo aircraft came face-to-face. The two flights 6E-779 (Coimbatore-Hyderabad) and 6E-6505 (Bangalore-Cochin) were in the air at a height of 25,000 ft when they almost collided — with a vertical separation of just 200 m.
Similarly, in May 2018, a Navy aircraft came face to face with a Bengaluru-bound IndiGo plane over the airspace of Chennai.
The regulatory body is worried about the Mumbai airspace as it has been witnessing at least two fatal air accidents every year since 2015.
According to the Ministry of Civil Aviation, two accidents were reported in Mumbai this year in the first six months and a total of 12 people were killed.
Data given by the ministry said further that 24 pilots were suspended and 58 Aircraft Maintenance Engineering (AME) officers were found blameworthy for snags caused by maintenance errors.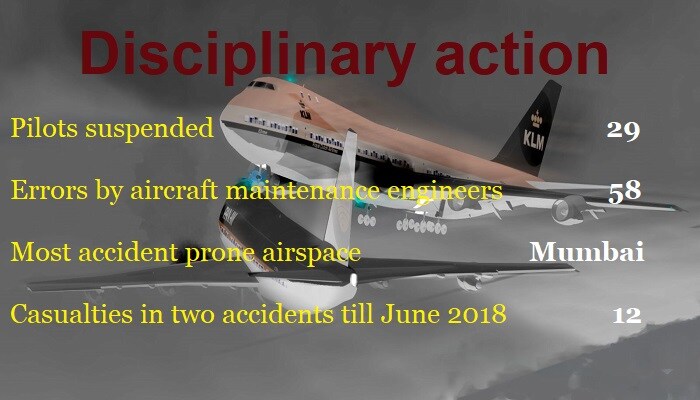 The ministry, after sensing the gravity of the situation, has decided to divide the Indian airspace into two parts. A project has started to harmonise the upper airspace of the four flight information regions (FIR), where the airspace above 25,000 ft above sea level is controlled from ATC centres located at the four metro cities.
Upper airspace harmonisation of Chennai and Kolkata have been completed. That of Delhi and Mumbai will happen in the near future.