Late Goan chief minister Manohar Parrikar won respect and praised when he was seen standing in a queue among the public at a wedding in Pune. The pictures were shared on Facebook which later went viral.
Pune: More than a politician the chief minister of Goa, Manohar Parrikar, is well-known for his humility and simple lifestyle. Even though he was a chief minister, he used to live in his own house, which is quite a modest one. According to reports, he used the practical, all-purpose Innova car instead of a fancy automobile.
Not only that he was also known for using a rickshaw and public transport like a regular person, especially outside Goa. Manohar always travelled in economy class and paid for personal calls from his pocket. Yes, you heard it right. As we have mentioned above, Parrikar never entertained VVIP treatment meted out to netas.
Read more: Manohar Parrikar passes away: Bollywood posts heartfelt messages for Goa CM's death
Manohar is the first IIT graduate, who became the chief minister of any Indian state. He was also the first IIT alumnus to serve as MLA of an Indian state.
Must Read: Manohar Parrikar no more: 11 things you should know about late Goa chief minister
Now, an incident from 2015, has resurfaced on Facebook emphasizing on his golden attitude in life. The post shows a few pictures of Parrikar standing in a queue among the public at a wedding in Pune and is going viral. Facebook user Kiran Chitnis, who has uploaded the pictures, wrote that his mother bumped into the then defence minister when she was attending the marriage of her childhood friend's son.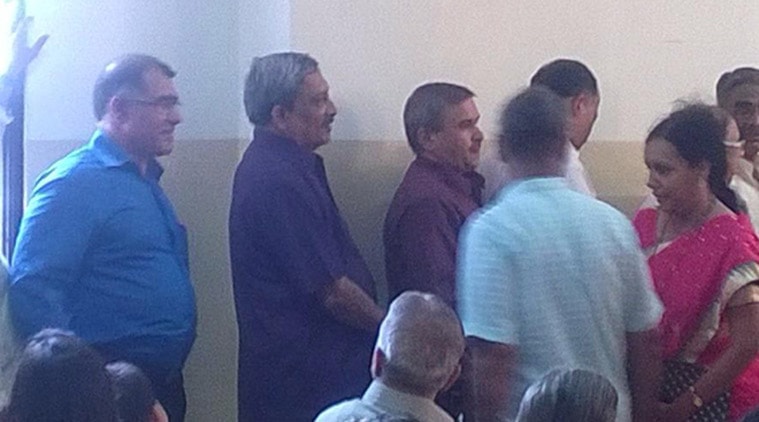 (Courtesy: Kiran Chitnis/Facebook)
He also wrote about how Manohar Parrikar stood in a queue and mingled with the public without an air of superiority. "What hasn't changed is Manohar bhai's humility in his journey from being my home state's chief minister to the defence minister of our Nation. Standing in the queue without any chamchas, no sense of air or superiority when mingling with the public are just few of his immense qualities, (SIC)" wrote Kiran in his post.
Also read: Manohar Parrikar is real poster boy for aam aadmi (life in pics)
He added that the Manohar attended the function as a regular guest and kept his security personnel outside the wedding venue. As soon as images were shared on Facebook, the post received many likes and shares, also it was later shared on other social media platforms. Many news websites also carried this piece of news.
Read Exclusive COVID-19 Coronavirus News updates, at MyNation.
Last Updated Mar 18, 2019, 1:38 PM IST