Former UP CM Akhilesh Yadav displayed the phone number of a UP resident who sent him a message on WhatsApp. Read on to know why he did and what message the UP resident sent him.
Bengaluru: Former Uttar Pradesh chief minister Akhilesh Yadav finds himself in the eye of a storm. 
In what can be seen as a deliberate attempt to put his harmless antagonist (person with a different political ideology) into trouble, he had tweeted his phone number.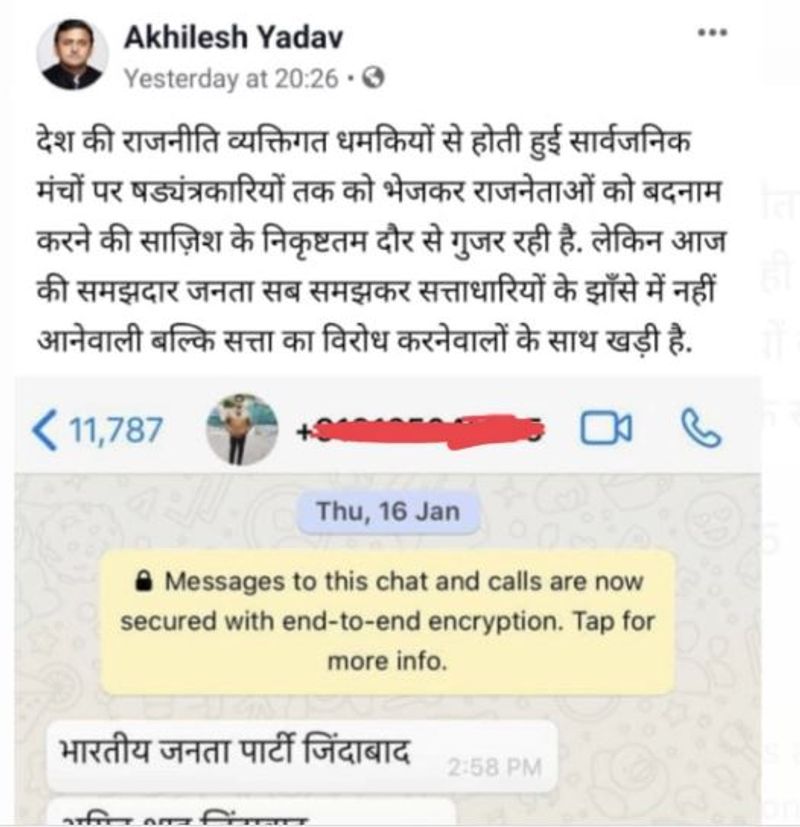 The story goes like this: Prashant Singh, who hails from Uttar Pradesh, had sent the former CM a message on WhatsApp. The content of the message is here: 
Bharatiya Janata Party zindabad
Amit Shah zindabad
Modi Ji zindabad
Tonti Chor

The former CM took umbrage to this message and put it out on Twitter, which also had the number of Prashant Singh displayed. 
As Yadav's post and Singh's number went viral, he began to get death threats. So fearing for his life, he has switched his phone off. 
Displaying such personal contacts amounts to violation of rules. So as Yadav's tweet went viral, he deleted it, fearing punitive action. 
As reported by a popular website, it turns out that Singh had sent this message on January 16 when the anti-CAA protests went on, creating a ruckus in the state. 
"I sent the messages to him [Yadav] when I was very disturbed with the violence unleashed by anti-CAA protesters across UP. I saw that SP was supporting the protesters and couldn't stop myself from writing something to Yadav," says Singh, as quoted by the website. 
But what about the reference to "Tonti chor"?
That takes us back to the year 2018 when Akhilesh Yadav was forced to empty his bungalow, as per Yogi Adityanath's instructions. It is said that when Yadav left the house, the water taps were found missing and the tiles were left in a bad shape. It is also alleged that electrical lamps were damaged, kitchen items too were damaged and the swimming pool was left in a bad condition. 
It is then that that the phrase "tonti chor' was coined. 
Prashant Singh now fears for his life and that of his family. 
Well, our only question is: If the opposition coterie and cohort can issue advice on intolerance and leaves no stone unturned to harp on an opportunity to target PM Modi and call him names like "murderer" why should Akhilesh get rattled by this small message? 
Read Exclusive COVID-19 Coronavirus News updates, at MyNation.
Last Updated Feb 17, 2020, 3:34 PM IST