It's a happy ending as two prominent men, BJP MP Pratap Simha and actor Prakash Raj have struck truce over the issue of derogatory remarks by the MP as the MP has apologised to him.
Bengaluru: Pratap Simha, the BJP MP from Mysuru-Kodagu region has tendered an apology to actor-politician Prakash Raj.
The MP issued a tweet on Thursday (August 8) in this regard.

Prakash Raj also accepted the apology with equal dignity.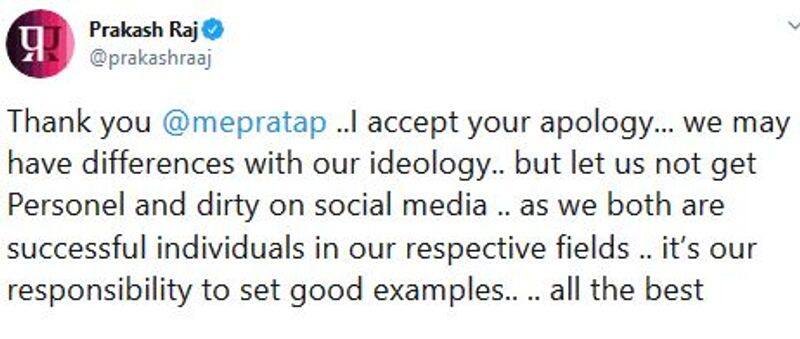 The issue pertains to Raj lambasting Prime Minister Narendra Modi for his stoic silence over the issue of the murder of journalist Gauri Lankesh in Bengaluru in 2017. Fuming at his criticism of the prime minister, Simha had tweeted thus:
"Being sad due to son's death, having left your wife and ran behind a dancer, do you Mr. Raj have any right/legitimacy/worthiness to say anything to Yogi-Modi."
The war of words did not stop there. On October 3, Simha had only intensified his vitriol:
"Your name in Kannada is Prakash Rai and Prakash Raj in Tamil Nadu. You change your name and identity according to your convenience and necessity in different states."
Infuriated and vexed at these harsh criticisms, Raj had filed a legal suit against the MP. He had even sent a legal notice to him.
He had said: "I sent a legal notice not because he represents a party, but because he trolled. But today people who are voted are shamelessly trolling. If he does not answer legally I will be taking action. This is not against any party."
The fight between the two revolves around the death of Gauri. The actor is often questioned about his alleged nepotism and targeting only one section of the society. This is what he had to say about it when asked:
"There is a question that why I didn't start asking questions, yes I should have started asking earlier. But I changed after death came to my doorstep. I thank Gauri."