8:36 PM IST
Delhi's prediction
According to India Today-Axis My India Exit Poll, the BJP is likely to win 6-7 seats, Congress 0-1 and Aam Aadmi Party (AAP) 0 seats.
Similarly, the exit Poll Results by News 24-Today's Chanakya shows that the vote-shares projection in Delhi – BJP 51%, Congress 17%, AAP 24%.  It predicted that BJP is likely to register a victory on all 7 Lok Sabha seats in Delhi.
8:07 PM IST
Mamata Banerjee's remark
"I don't trust Exit Poll gossip. The game plan is to manipulate or replace thousands of EVMs through this gossip. I appeal to all Opposition parties to be united, strong and bold. We will fight this battle together," said Bengal chief minister on Twitter.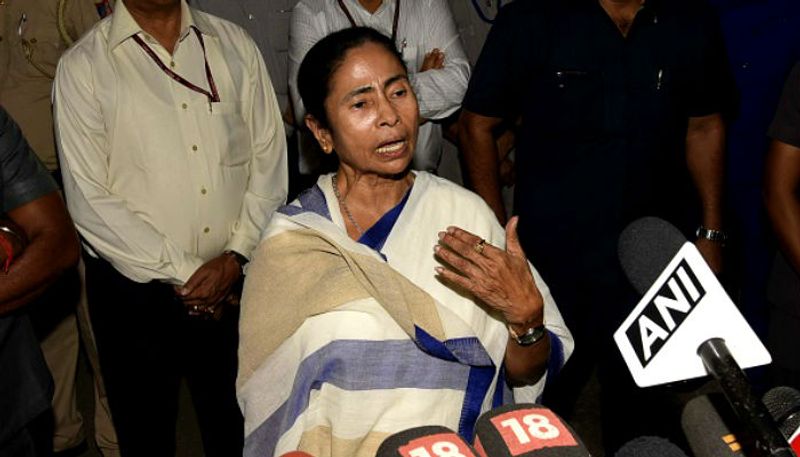 7:55 PM IST
PollOfPolls: Rahul Gandhi's UPA faces rout
The figure is comfortably past the half-way mark of 542 seats and the BJP itself is expected to speed past the 272-mark on its own. Sliced and diced whichever way, the BJP has a lot to celebrate.
Considering four exit polls, the NDA is getting, on an average, 309 seats while the UPA is getting just about 113-114 seats in the Lok Sabha elections.
Full report here.
7:37 PM IST
Predictions at a glance
7:33 PM IST
On average BJP to get 41-44 seats in UP
The exit polls out on Sunday evening by and large portend that the BJP-NDA shall come to power and PM Modi will surge back into the top position once more.
The most crucial state of Uttar Pradesh, which was a make-or-break for both the BJP and the Opposition, especially the Magathbandhan of the SP and BSP, would return on an average 41 seats for the ruling dispensation.
Full report here
7:15 PM IST
ABP Exit Poll survey
ABP Exit Poll survey says Shiv Sena, BJP may suffer losses in Maharashtra. However, they are likely to remain largest alliance in state.
 
7:13 PM IST
'Ayega to Modi hi', says Congress
Ayega to Modi hi (Only Modi will come) has been the slogan of all the Modi fans commonly addressed as 'bhakts' by the Congress. Memes swept the internet as creativity overflowed. But even in your wildest dream, you may not have dreamt that the official Congress twitter handle would endorse Narendra Modi over their Prime Ministerial candidate Rahul Gandhi. But that's precisely what has happened on Sunday as the election 2019 drew to a close. 
7:11 PM IST
Exit polls predict Narendra Modi sweep again
Exit poll results have just started coming in, and they indicate that PM Narendra Modi is coming back to power with a robust majority. The first three or four early exit polls show a clear majority for the Bharatiya Janata Party-led National Democratic Alliance. Here's the report.
6:57 PM IST
Modi's victory once again?
Even as Prime Minister Narendra Modi has come to be the sole focal point of the Lok Sabha elections 2019, emerging as the star campaigner of his party and the locus of all Opposition attacks, those in the media who swear by their opposition to him also seem to have lost all hope that he will go out of power. Check out the report here.
6:55 PM IST
BJP will win in Delhi: IndiaTV
India TV on Sunday predicted that it will be a clean sweep for the BJP in Delhi. In 2014, the party had won all seven seats with a vote share of 46.6%.
6:49 PM IST
NDTV poll of polls for Haryana
NDTV poll of polls prediction for Haryana says that BJP is likely to get 8 to 12 seats. However, the data shows that Congress and INLD may fail to win even a single seat. 
6:46 PM IST
India Today-Axis prediction
According to India Today-Axis, YSR Congress is expected to win anywhere between 18 to 20 seats in Andhra Pradesh. TDP will get 4 to 6 seats. 
6:42 PM IST
News18-IPSOS data
First phase News18-IPSOS data 
NDA: 38-42
UPA: 4-7
Others: 44-46
 
6:39 PM IST
BJP leads
Republic TV's The Jan Ki Baat exit poll numbers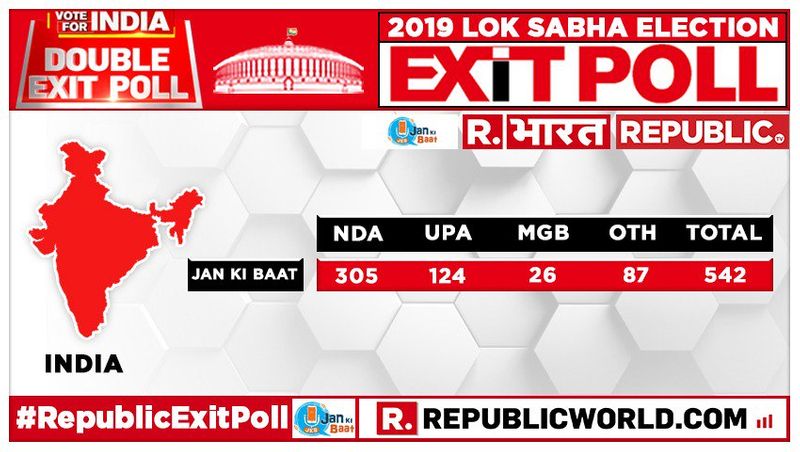 6:33 PM IST
Opening prediction
Opening prediction by Times Now
NDA: 306
UPA: 132
Others: 104 
Opening prediction by Republic TV
NDA: 305
UPA: 124
Mahagathbandhan: 26
Other: 87
 
6:21 PM IST
Voting concludes
Voting has ended for the 7th and the final phase of the Lok Sabha elections 2019 for 542 seats. Exit poll results will be out soon.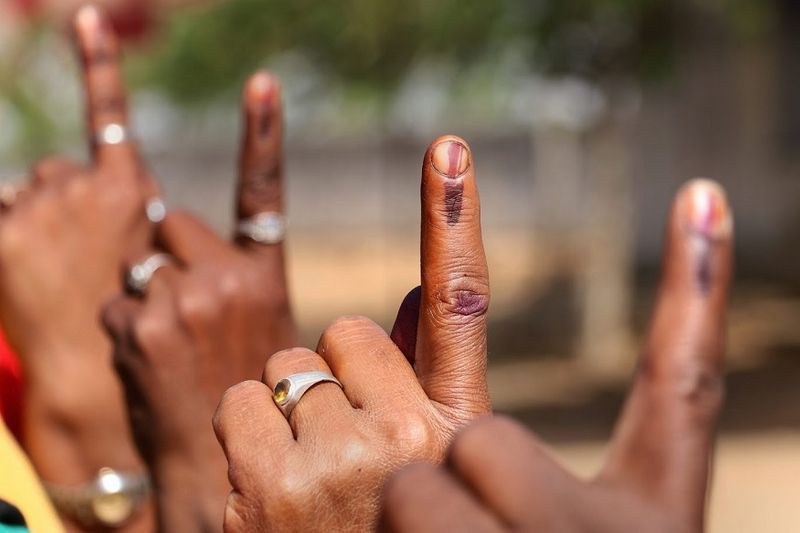 5:53 PM IST
Exit poll 2014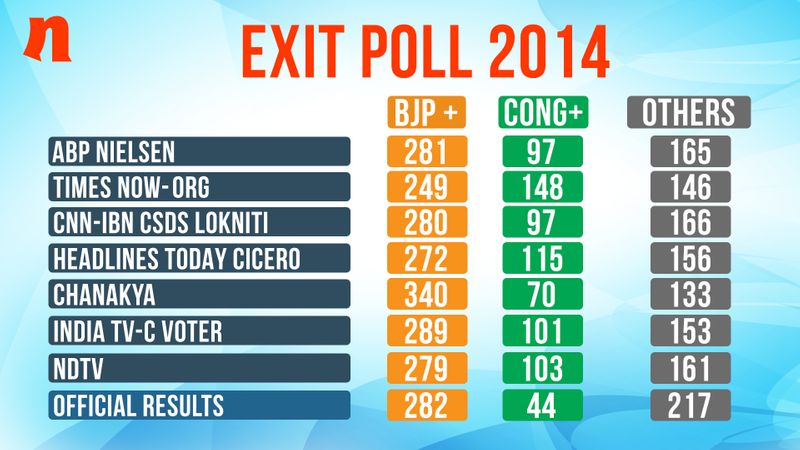 5:49 PM IST
Satta bazaar's prediction
The satta bazaar, which is the most credible and famous satta or betting market of Phalodi in Rajasthan, is betting on the BJP and the National Democratic Alliance (NDA) to once again form government at the Centre as the 2019 poll exercise comes to an end on Sunday. Read here to know how many seats satta bazaar is giving PM Modi in 2019 Lok Sabha polls
5:40 PM IST
How exit polls work
Exit polls are conducted by several organisations right after the polling concludes. This is done to understand the mood of the voters and to have a glimpse at what the out on the final day might be. To know more read here.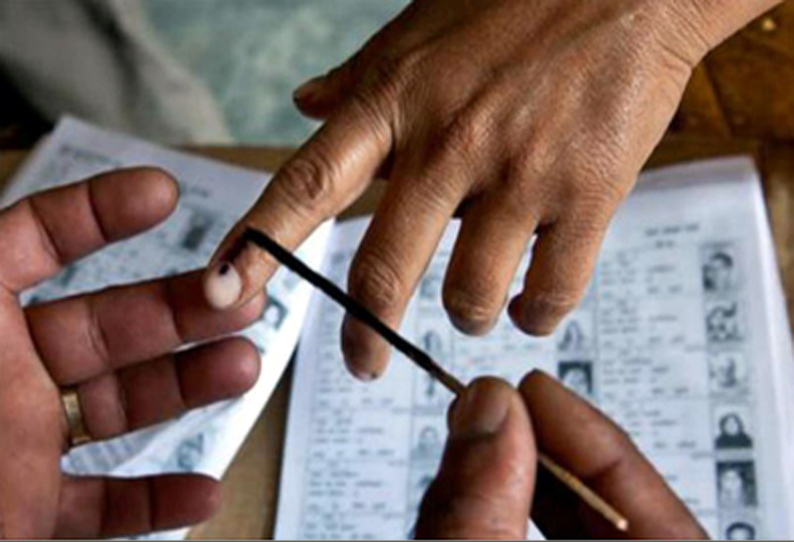 5:36 PM IST
Exit poll results
Exit poll results, which are expected to be out at around 6 PM on Sunday, will be setting the tone for the Lok Sabha elections result day on May 23.